Most of us know that what we eat is so very important (for energy, healthy metabolism and all around vibrant health). Actually, much of what we've talked about in our teleseminar series so far really starts with what we put in our mouths each day.

Yet preparing healthful meals is often a challenge.

Besides being a physician, a consultant to the White House and a volunteer in the relief effort in Haiti, Mark Hyman MD, is also a three-time New York Time's bestselling author.

Just for fun we asked him to allow us to share one of his recipes from The Ultra Metabolism Cookbook, which is filled with over 200 recipes designed to increase metabolism and health.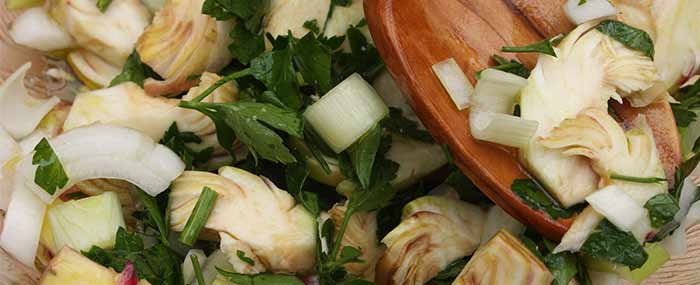 Artichoke Hearts with Caramelized Onions and Herb Dressing
Ingredients Needed:
2 cups red onion
¼ tsp red pepper flakes
2 cups yellow onion
4 garlic cloves, minced
1 can (9 ounces) artichoke hearts
4 tbsp olive oil
¼ tsp paprika
½ tsp fresh parsley
½ tsp fresh tarragon
2 tbsp lemon juice
Instructions:
Preheat oven to 350 degrees.
Julienne the red and yellow onions.
Drain and rinse the artichokes.
Combine artichokes with 2 tbsp of olive oil, minced garlic, and spices in a bowl.
Spread out mixture onto a sheet pan and bake for 35 minutes at 350 degrees, artichokes will be slightly soft and browned—do not burn.
On medium heat, in a sauté pan, heat the remaining 2 tbsp of olive oil.
Add the red and yellow onions and sauté on medium for 5–6 minutes.
When the onions start to brown, reduce the heat and cook for an additional 15–20 minutes, stir as needed to keep from burning.
Once the onions are caramelized, stir in the lemon juice and cook until the liquid is evaporated. Do not burn the onions.
In a large bowl, combine the roasted artichokes and caramelized onion mixture. Gently mix until everything is evenly combined.
Chill.
This recipe takes total (15 minutes to prepare, and 30 minutes to cook). It serves 4.

Now of course it takes more than one meal to make a vibrant health regimen.
For more information about Mind/Body Medicine, click here.
In the meantime, try out the recipe, and let us know what you think.