A couple weeks ago, we asked how COVID-19 was affecting your practice . . .
. . . and I thought you might like to know what we found out.
But first, thank you to the hundreds of practitioners from across the globe who shared their experiences. This helps us better understand how we can support you during the pandemic.
Now, let's get to it. What did we learn? Well, first, we asked: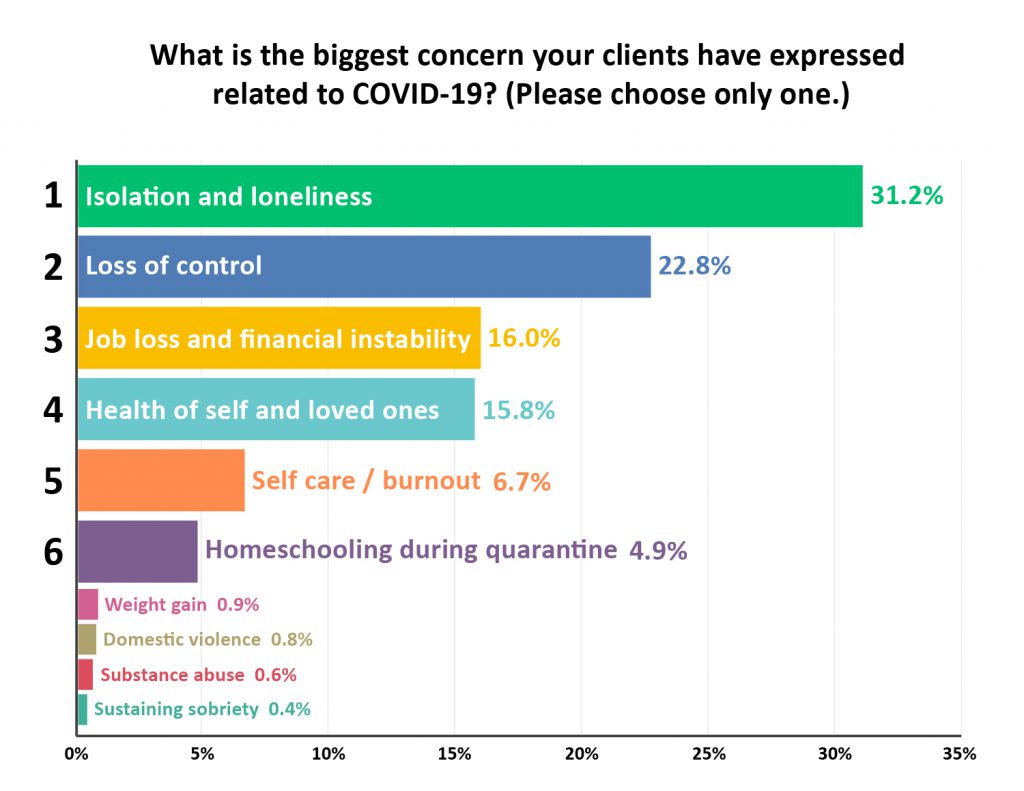 Isolation and loneliness (31%) followed by Loss of control (23%) are top concerns right now for patients.
The pandemic poses many new relational challenges – especially for clients who already struggled to connect with others.
If your clients are feeling lonely as they practice social-distancing, here are some creative strategies for fending off loneliness and keeping relationships strong. Next, we asked:
For practitioners, some of the biggest concerns were How to be effective via tele-health (27%) and the Health of self and loved ones (25%).
Even experienced practitioners can find online sessions challenging. It can be harder to connect with a client, and sometimes your most effective interventions don't translate easily to online work.
Beyond that, online sessions can be surprisingly exhausting.
For some practical ways to beat Zoom fatigue and make the transition to tele-health easier for you and your clients, check out our recent blog, Practical Ways to Improve Telehealth Sessions.
Next, we looked at clinical issues: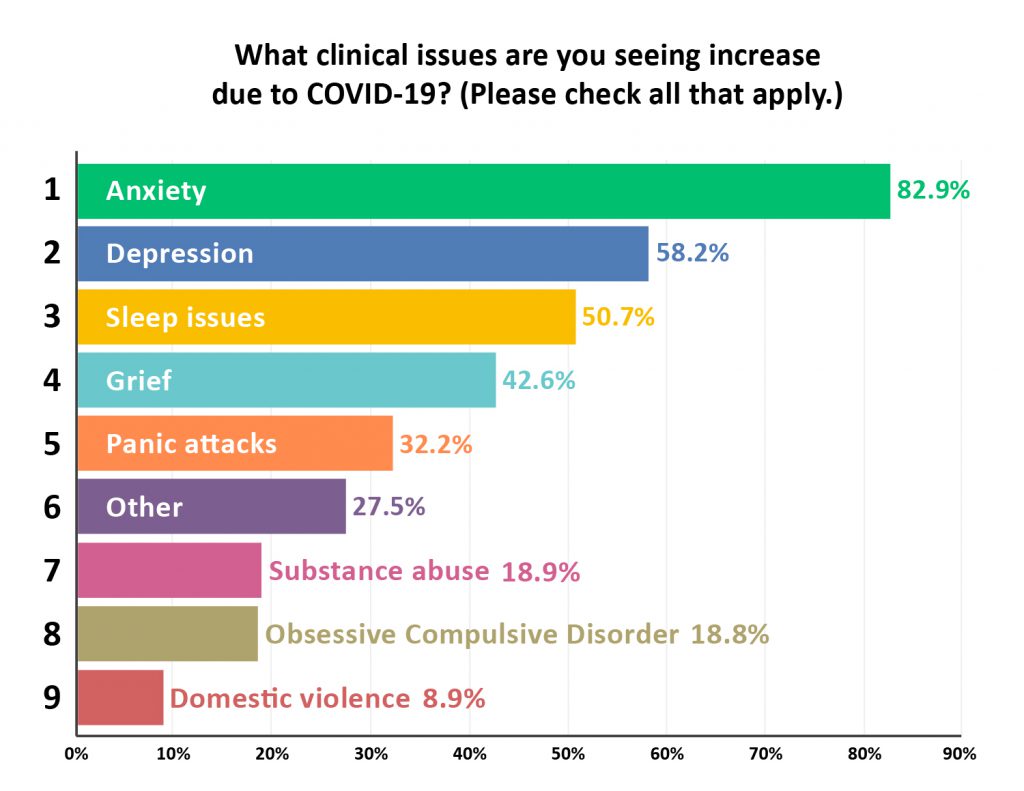 The pandemic brings a whole new set of challenges to clinical work. We have to adapt interventions to be effective during social-distancing and quarantine.
As we all face a lot of uncertainty about the future, it's no surprise that Anxiety (83%) is increasing significantly among patients.
If you're looking for strategies to help patients get relief from anxiety right now, you may want to check out this conversation I had with Christine Padesky, PhD, and Ron Siegel, PsyD. Click here to hear their strategies for alleviating worry during COVID-19.
The majority of practitioners are also seeing Depression (58%) and Sleep Issues (51%) increase.
Joan Borysenko, PhD and Rick Hanson, PhD recently shared some thoughts on the sense of sadness and loss that's become so pervasive during the COVID-19 pandemic. You can hear the full story here.
We believe that the work being done by mental health practitioners is especially critical as we go through the pandemic.
That's why we've made it our mission to support you with ideas from some of the world's top experts.
Keep an eye out for more strategies for clinical practice during COVID-19 coming out soon.
Now we'd like to hear from you. If there's any question you have for the experts, or any topic that you'd like to see on an upcoming blog, please let us know in the comments.