Brain science is constantly changing and discovering new, exciting ideas . . .
. . . but one thing that seems to keep popping up is how great exercise is for your body, and for your brain.
Last week, I told you about a study that focused on the effect that physical activity can have on an aging brain.
But, is there a way to get even more out of exercise?
Cay Anderson-Hanley, PhD and researchers at Union College in Schenectady, NY put this question to the test.
They hypothesized that, although good old fashioned exercise can have a powerful effect on the brain and cognitive function, if you add a level of cognition to the exercise, the effect will be even greater.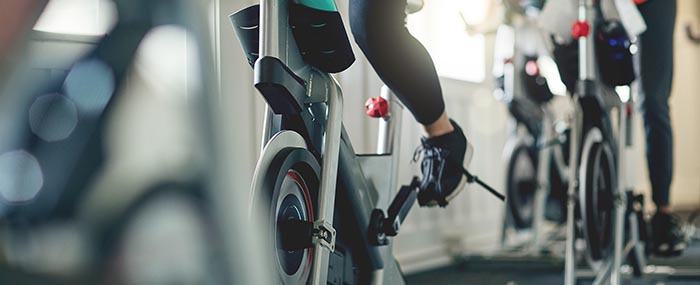 So, researchers randomly assigned participants (aged 55+) to either a cybercycle group or an exercise control group.
The exercise control group rode a stationary bike 45 minutes a day, 5 days a week, for 3 months – increasing their time increments as the months went on.
To test the hypothesis that an extra level of cognition would increase the impact exercise had on the brain, the experimental group rode a cybercycle, which is a stationary bike (just like the control group) with a 3D screen in front of it – much like an arcade game.
While riding the cybercycle, participants competed with a virtual companion, very much like an arcade game. This added an extra level of focus and cognition to the exercise.
In order to measure the change in cognitive function and brain structure, researchers used color trials (
ability to quickly connect colored and numbered dots), Stroop C (name the color of the ink of a different color word), and Digital Span Backwards (success at saying a string of numbers backwards).
To measure brain change, neurotrophic factor (BDNF) levels using fasting plasma samples were collected during pre- and post-tests. BDNF protects and supports the growth of new neurons in the brain.
So, what did the researchers find?
Compared to baseline, the cybercycling group showed significantly better cognitive ability than the control group did. Participants who rode the cybercycles also showed increased BDNF levels.
So, this research supports the notion that a combination of exercise and cognitive activity can have an extraordinary effect on the brain.
You can find more about this study in The American Journal of Preventive Medicine.
For more strategies for strengthening your cognitive control, check out our Practical Brain Science series.
How have you (or your clients) used exercise to keep your brain strong? Please leave your thoughts in the comment section below.