How crucial is the power of touch in developing a healthy sense of self-esteem . . .
. . . and what role do these play in how people respond to fear?
To answer these questions, Dr. Sander L. Koole and a team of researchers at VU University Amsterdam in the Netherlands conducted a series of studies looking at whether interpersonal touch might help people who have low self-esteem when they're reminded of their own mortality.
You see, Dr. Koole and his team had looked at a body of research called Terror Management Theory. Previous studies stemming from this theory suggested that people with low self-esteem often have little buffer against the fear of death because they have a lower sense of meaning in life than do people with high self-esteem.
And while touch triggers certain physiological processes by releasing endorphins and hormones (including oxytocin), researchers thought that the comfort of touch might, in part, be of particular benefit to people who struggled to find meaning in life.
To test this theory, Koole and his team designed a series of 4 experiments.
In the first experiment, participants were randomly assigned to either a touch or no-touch group. In the touch condition, researchers approached participants with a light touch on the shoulder blade.
The researchers then asked participants in both the touch and non-touch group to rate their anxiety about death using a 7 question, 5-point scale. They were also asked to complete the Rosenberg Self-Esteem Scale (RSES).
Among participants whose Rosenberg scores indicated low self-esteem, those who received a touch on the shoulder indicated lower anxiety when answering questions about death than those in the no-touch group.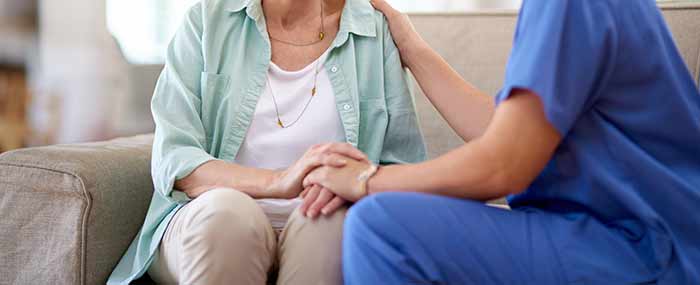 In contrast, touch appeared to have no impact on participants within the high self-esteem group.
Because Koole and his team had more questions they wanted to investigate, they ran 3 similar experiments, but each time they introduced additional variables.
For example, they wanted to know if the presence (or absence) of touch made a difference when they asked participants about fears regarding dentists (in contrast to fears about death).
The researchers also looked at how touch could affect participants' sense of social connectedness with others when responding to questions about death or dentistry. In other words, they wanted to know if touch could improve participants' sense that they weren't alone when thinking about greater or lesser fears.
Finally, Koole and his team wanted to find out if they would see similar results if they substituted a teddy bear for human touch. Their theory was that a cherished childhood toy might symbolically offer a measure of comfort to participants with low self-esteem.
In each of these variations, participants from the touch groups reported lower levels of anxiety, and a greater sense of comfort, than those in the non-touch groups. This held true whether the touch came from a human or a teddy bear.
Now these studies were all conducted with participants from a narrow range of age, (you guessed it – college students), so we can't generalize the findings to a larger population.
Even so, I see the potential benefit in a study like this.
The ways people learn to cope when they're struggling to find meaning in life can contribute to depression and anxiety. So research like this is important if it can further our understanding of how we can work with the body to enhance mental health.
If you'd like to read this study in its entirety, you can find it in the January 2014 issue of Psychological Science.
Interpersonal touch is just one example of how we can work with the brain and body to strengthen and promote health.
We have more courses pertaining to the brain on our website – just click here.
What are some ways you think the power of touch can be used to promote healing in our lives and relationships?
Please leave a comment below.