Could it be time for you to get out your painter's smock and brushes?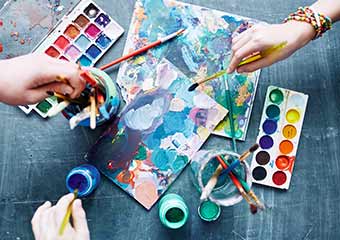 A new study by the Mayo Clinic may be just the motivation you need. The clinic recently published findings of their four-year study on risk factors for cognitive aging.
A team of researchers led by Dr. Rosebud Roberts selected 256 participants aged 85 or above, whose cognitive level was deemed within normal limits. They were interested in looking at measures of depressive symptoms, chronic conditions, and midlife onset of hypertension within this group as predictors of mild cognitive impairment.
Researchers took baseline measurements of participants by using a combination of medical records, self-report questionnaires, and other methods. They were repeated at 15-month intervals, and results were adjusted to reflect differences in gender and education.
Their findings were pretty interesting.
Participants who engaged in artistic pursuits proved 73% less likely to develop problems associated with mild
cognitive impairment, including memory loss and executive function-related issues.
Crafting activities, which included ceramics, sewing, and woodworking, were associated with a 43% decrease in cognitive impairment risk.
Researchers also looked at the social element of creative activity and the impact that had on participants. By that, I mean the opportunity to socialize with others that comes with participating in a book club, attending concerts, or traveling.
Engaging in these kinds of activities was associated with a 55% decrease in likelihood of developing cognitive impairments. Also, participants who started using a computer later in life also saw their risk of impairment decrease.
The caveat with this, though, is that the people in this study who benefited from tapping into their artistic side began doing so in middle age (and their creativity continues into the present).
We don't really know if a person who started these kinds of activities later in life would get the same benefit.
And we also don't know if perhaps this is a selection issue. Maybe people who follow their artistic inclinations have a hardier neurological constitution in the first place.
It's never too late to take up sculpture or painting, it's just that the neural benefits seem to be more pronounced if people don't wait until retirement to begin.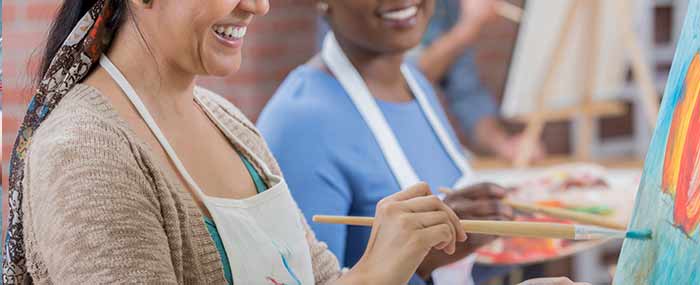 If you are interested in reading more about this study, you can find it in its entirety in the April 8th edition of Neurology.
At this point, however, it's important for me to issue my standard warning about how to interpret correlational studies. While these results have merit, we cannot draw the same conclusions as we could had this been a randomized, controlled experiment.
This was a longitudinal study, and that buttresses these findings somewhat. But on the other hand, the study was conducted for only 4 years. Other longitudinal studies go on for decades.
Even so, neuroscience research often begins with simple observations about what's helpful in working with patients (and what isn't).
And in our Brain courses, we've pulled together leading experts in various courses to help us understand what interventions work, and why. The courses are on our website – just click here.
But for now, let's get back to the emphasis on encouraging creativity as a brain-healthy behavior (and as early as possible in life). What are some the best strategies you've used to convince patients to make and sustain similar changes sooner rather than later? Please leave a comment below.