Soldiers in a war zone experience more trauma in a week than many others experience in their lives . . .
. . . but it still feels like our tools for treating trauma aren't quite sufficient.
Mindfulness meditation could be a powerful healing intervention – but does it work with soldiers?
The early research is promising. It's still very young. . . but it's promising. That's why I thought this study was so interesting.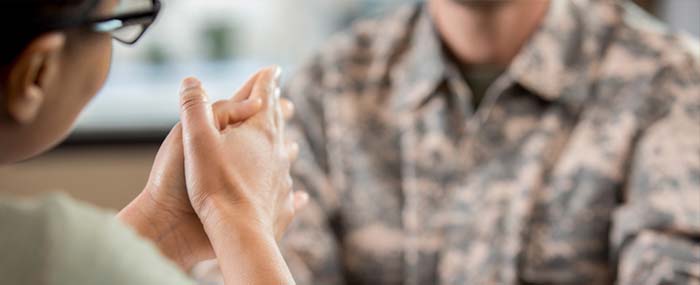 Anthony King, PhD, research professor in the University of Michigan department of psychiatry, led a team to investigate whether mindfulness-based cognitive therapy (MBCT) could help veterans with PTSD.
They gathered 37 PTSD patients seeking treatment at a local VA outpatient clinic, and randomly assigned them into two groups.
One group received an 8-week MBCT course, while the other received psychoeducation as usual to serve as a control.
The veterans in the MBCT group participated in short classes, which included mindful movement exercises, mindful eating, meditation, and body scans. They were also instructed to practice mindfulness during their daily lives.
Meanwhile, the treatment-as-usual group received psychoeducation about PTSD symptoms, anger, emotion, and group discussions. Their treatment involved roughly the same number of hours as the mindfulness group.
Researchers took measurements of all patients with a semi-structured interview before the treatments began. The veterans completed a PTSD self-diagnostic test, along with a short survey measuring negative posttraumatic cognitions.
Once treatment was completed, the veterans took the test again . . .
. . . and the results were remarkable.
73 percent of veterans in the MBCT group showed significant improvement, while only 33 percent of the psychoeducation group of patients showed the same. They improved in many categories, but one of the most remarkable was avoidance symptoms. The MBCT group showed an improved ability to sustain their focus on even unpleasant thoughts and memories, which is a key tenet of mindfulness practice. The MBCT patients also showed a decrease in feelings of self-blame and perceived the world as less dangerous.
Of course, it's important to note that this study was conducted with veterans in particular, so we have to be cautious about generalizing to the population at large.
But it's still promising, especially if you're interested in finding ways to help veterans heal from trauma.
If you're interested in reading the full study, you can find it online in Depression and Anxiety.
For more about the treatment of trauma, take a look at our courses on trauma. They combine innovative theory with powerful practical applications to give you the tools you need to help your clients heal.
If you've ever worked with veterans, you know how difficult PTSD can be. What strategies do you find effective? Please share your thoughts in the comments below.