Trauma doesn't discriminate.
It can affect anyone, anywhere throughout the world and, unfortunately . . .
. . . not everyone has similar access to resources for treating trauma or PTSD.
So, what can we do to reach survivors of trauma who have limited access to treatment options?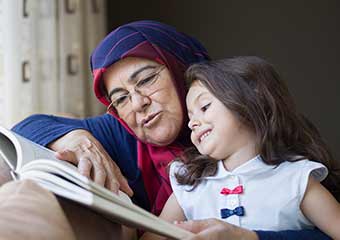 Paul Bolton, MBBS and a team of researchers from the Johns Hopkins University Bloomberg School of Public Health, wanted to test the effects of PTSD treatment provided by workers who had access to few resources and little training opportunities.
To complete this study, Bolton coordinated 20 community health workers in Iraq. The workers were randomly assigned to two different treatment groups – Behavioral Activation Treatment for Depression (BADT) and Cognitive Processing Therapy (CPT).
BADT is designed to allow patients to recognize their depression, and then engage in positive activities to overcome it.
CPT helps patients focus on the traumatic event and initially works to change the inaccurate details of what happened. The purpose of the treatment is to allow survivors to talk about their trauma in flexible terms to reduce PTSD symptoms.
For two weeks, these community workers were trained in one of two treatment interventions that were being evaluated.
Next, the researchers gathered a sample of 732 survivors of systematic violence (torture or other severe violent trauma). The survivors were screened, and 281 were enrolled in the trial.
The researchers assembled a waitlist control group of 66 patients. The remaining participants were randomly placed into one of the two treatment groups.
The researchers found moderate, positive correlations between each of the treatment interventions and decreased PTSD symptoms.
Now, the purpose of this study was not to see which intervention was more effective, but rather to see if it was possible to decrease PTSD symptoms for trauma survivors when there are limited resources and training opportunities available for treatment.
On one hand, it is hard to generalize these results to a large group – would the treatments be effective in other areas that have restricted resources?
But, this study does indicate that even limited trauma interventions can be effective in helping people who are suffering from PTSD.
In Dohuk, Iraq, where the study was completed, many of the patients lack language proficiency and live in extreme poverty, and these can make treatment even more difficult.
But it's astonishing to see results when the community workers in this study had received a mere two weeks of training.
You see, studies like this reinforce my commitment to provide ongoing training for practitioners in health and mental health fields.
It's always encouraging for me to read emails from professionals all around the world who have used our programs. Our goal at NICABM is to spread awareness about effective interventions to as many people as possible in order to treat as many people as possible.
I'm hopeful that some of our programs may even be reaching people who don't have access to adequate resources.
It's crucial to remember that trauma happens everywhere and that, even for people who are living in extreme poverty with limited resources, basic treatments can have a major impact on trauma survivors.
Have you ever worked in an area where those suffering from trauma or PTSD have limited resources? What do you think we can do to make treatment options more accessible all around the world? Please leave a comment below.