Approximately 10 million women in America have been physically assaulted at some time in their life. Yes, that's a sobering statistic. But the far-reaching effects of violence against women are even darker. Over a third of these survivors experience Post-Traumatic Stress Disorder with increased rates of depression, obesity and heart disease.
So how do we even begin to approach the healing of such an overwhelming phenomena?
The answer is complicated. And I wish current treatment methods showed better results. In a recent large-scale clinical trial, 78% of patients who underwent prolonged exposure therapy failed to overcome their symptoms after 6 months. Less than half showed any clinical improvement whatsoever.
You have to understand that this is partly due to the high drop-off rate of patients, most of whom exhibit a heightened inability to regulate impulse. They can easily become flooded or dissociated from their feelings, which negatively affects the resolution of traumatic memories.
This hits at the core of PTSD treatment in a traditional sense.
But Bessel A. van der Kolk, MD, and a team from the Trauma Center at the Justice Resource Institute tried something novel.
From 2008 to 2011, they randomly assigned 64 women who were suffering from trauma-induced PTSD, half to a weekly women's health support class (the control group), and half to a weekly trauma-informed yoga class.
Each treatment condition lasted 10 weeks. Patients were assessed at pretreatment, midtreatment and posttreatment using the Clinician-Administered PTSD Scale (CAPS) and the Davidson Trauma Scale (DTS). The researchers were looking for any differences in the resolution of trauma symptoms between the two groups.
What they found was surprising. The patients who attended the weekly yoga group, with its guided meditation and breathing exercises, were much better able to focus on the present moment and control their impulses. Now, this alone was a promising result.
But beyond that, their PTSD symptoms plummeted.
When they did the final CAPS assessment, 16 of 31 participants in the yoga group no longer met criteria for PTSD, compared to 6 of 29 in the control group.
Now here's something interesting – – in the DTS assessment, both the yoga and the control groups showed identically significant improvements right up until the midway mark of the study.
But the yoga group maintained their gains to the finish, while the control group relapsed.
So how do we explain this? What can we learn from the practice of yoga and its long-term effects?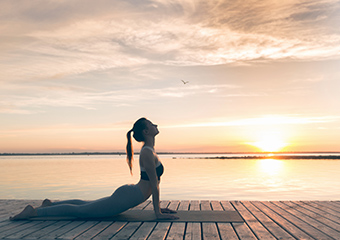 Yoga has three principle components: breathing exercises (pranayama), postures (asanas), and mindfulness meditation. If you've ever tried yoga, then you know that it is built upon the concept of body awareness and opening yourself to the transitory nature of one's momentary experience.
Practitioners focus on internal sensory experiences, which isolates emotions and physiological reactions to triggers such as fear.
What this means is that, instead of avoiding unpleasant memories, the women in the yoga study group were better able to isolate their memories and address them in a non-threatening way.
One interesting component to this study is the fact that the control group showed continued improvement in their Depression scores even as their PTSD scores relapsed. It is theorized that the supportive nature of this group, which shared food and encouraged contact outside of formal sessions, may have contributed greatly to the overall mood of the participants.
This would suggest that it might be the physical and interoceptive aspects of yoga – and not the social makeup of the group – that was instrumental in the change in PTSD symptomatology.
We should point out that, even though the groups were randomly assigned, there were significantly more
participants in the yoga group who were employed than in the control group. (The education and family income levels of participants were about the same in both groups.)
I would like to see further studies with larger sample sizes, as well as studies that included different socioeconomic classes and genders.
You can read more about the study at the ClinicalTrials.gov site, using the identifier NCT00839813
But now I'd like to get your take on the findings. Have you ever used yoga with PTSD patients in your own practice? Is it something you would be willing to try? If you have any experience with this approach, we'd love to get your insights on the topic, along with how you incorporated yoga into an overall client treatment plan. Please leave us a note below and share your story.