How might our adult lives be different if we'd learned about mindfulness as children?
A lot of us didn't start hearing about mindfulness meditation until we were well into adulthood, not to mention well into managing a hectic and stressful lifestyle.
Troublesome habits can form as early as elementary school, as children attempt to juggle homework assignments and test scores, and navigate peer pressure and parental involvement (either too much or too little).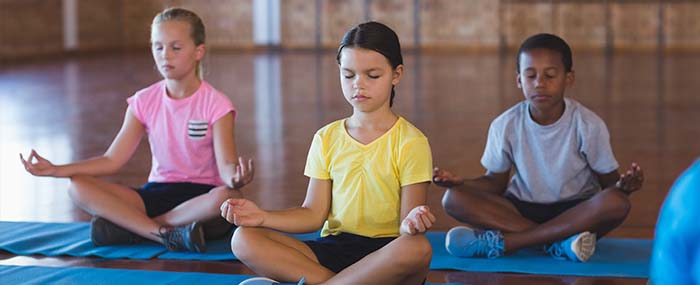 But a program called Mindful Schools is helping to change this by introducing mindfulness to students as early as first grade … and it's making a difference.
Mindful Schools, along with the University of California, Davis, recently conducted the largest randomized, controlled study on mindfulness and children to date.
Researchers randomly assigned 915 children to either a treatment or a control group.
Participants in the treatment group received just four hours of mindfulness training over six weeks while the control group carried on with their regular classes.
At the end of the six-week program, results showed that the treatment group experienced significant improvements in behavior – especially in paying attention and social compliance – compared to the control group.
These findings are pretty remarkable, and suggest that mindfulness practice doesn't have to be overly time-consuming to impact children's behavior.
Plus, the results showed that mindfulness can even go beyond language barriers, as 68 percent of the participants were English Language Learners.
If you'd like to know more about the study, you can access additional information at mindfulschools.org.
You can also find out other ways that mindfulness is being introduced in schools (and how it's impacting teachers and students alike), by checking these out.
Have you ever introduced mindfulness to a young person? Please share your experience below.