In our stressed out and busy world, it's hard to even have time for meals, much less time to meditate.
But here's the good news: you can spend just ten minutes a day practicing mindfulness meditation and still enjoy its benefits.
Adam Moore and his colleagues at Liverpool John Moores University in the UK found that practicing mindfulness meditation in brief daily intervals can positively impact and improve our level of concentration.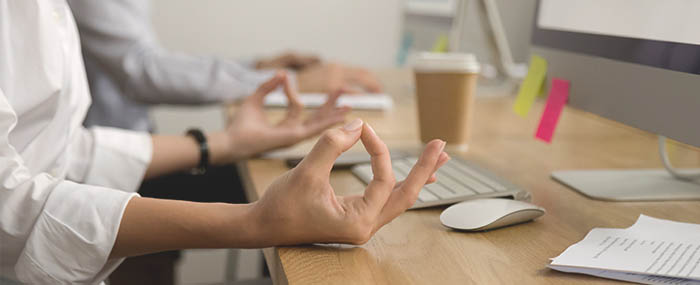 To investigate whether even a modest practice of mindfulness would boost concentration, the researchers recruited 40 healthy adults who were then randomly assigned to a meditation group or a waitlist control group (age and gender were matched across groups).
Over the course of 16 weeks, participants in the meditation group were taught simple mindful breathing exercises, and observed a meditation schedule of ten minutes minimum per day, at least five days per week. Each participant kept a meditation log and recorded his or her frequency and duration of practice each week.
Next, the researchers tested participants at three different points during the study, using a combination of self-report questionnaires and a Stroop task given in tandem with an EEG monitor. The task consisted of four color words shown in both the same color as the written word (i.e., red, blue, green), and in different colors (i.e., red, blue, green); participants identified the color of each word as quickly and accurately as possible.
Here's what they found.
Practicing mindfulness meditation regularly, even in brief increments, significantly affected brain functions related to performance on the Stroop task.
To put it another way: the study showed that a very manageable meditation schedule – a mere ten minutes a day – is enough to improve our focus and concentration.
What's more, the results showed how the skills we develop and sharpen during mindfulness practice can help us in our everyday lives.
One flaw to consider – and which the researchers acknowledge – is the general imperfection of waitlist controls, so we want to be cautious of concluding that all of these effects were caused solely by the mindfulness meditation practices.
Nevertheless, this study is a reminder that encouraging patients to practice mindfulness, even for only ten minutes at a time, can add great benefit to the health and functioning of their minds.
If you'd like to read the full study, it was published online in Frontiers in Human Neuroscience in February 2012.
Making mindfulness work amidst clients' busy schedules is just one of the hurdles in getting clients to try mindfulness – and then also stick with it.
That's why we've assembled some of the top experts in the field to share their knowledge and show us practical applications for using mindfulness successfully with our patients. Just click here to view our courses.
Do you have a particular success story about incorporating mindfulness into a patient's lifestyle? Please share it with us below in the comments.