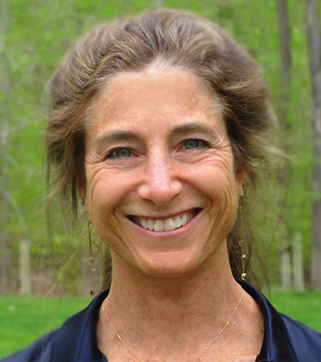 Sometimes people spend a lifetime resisting one particular feeling. But according to Tara Brach, PhD, being able to nudge them gently into their "ouch" moment can be pivotal to opening people up to self-compassion . . .
. . .and in just one hour, Tara shared how a simple gesture (hand on heart) and two small words ("I'm sorry") can help steer patients through these moments, into what she calls "true refuge."
And, as always, I was fascinated by some of the responses we got from the people who tuned in to this week's webinar with Tara.
Like this one, from a practitioner who plans to incorporate Tara's techniques into her own practice:
"What stands out the most for me in this moment is my need to continue practicing presence, calm non-reactivity as a psychotherapist. My intensity and dynamic way of being stokes many a fire, helps those who have been profoundly neglected and unwanted to feel loved and cherished. This is good. And it is ok to just to be with them sometimes in the pause, the quiet nurturing pause, in which they can find their own energy, sensations, emotions and expressions. (self-compassion)"
Nicole Ann Ditz – Holistic Depth Psychotherapist
It's also gratifying to read comments like this one, from a viewer who appreciates the simplicity of taking time to pause:
"I love calling mindfulness a type of 'pausing'. People can relate to that. What I love about these talks is that the same concepts of awareness and compassion are presented over and over in different ways from loads of different angles, so I get a really great comprehensive understanding of them. As well as that I get practical ways that people can actually feel how to feel that way. Ruth I think it is great you always ask 'How can we do this' because people need to know. Practitioners need to know – how can I help people to actually experience these things for themselves, not just waffle on about compassion and healing."
Sarah McCormack, Ireland
And it's exciting to hear about which specific techniques strike viewers in particular – for instance, this person responded to Tara's hands-to-heart technique:
"I have always wanted to see Tara speak. I read Radical Acceptance years ago and loved it for myself and my clients. She was as great as I thought she would be. The mudra of putting your hands to your heart is so comforting and I will use it with my clients who are disassociated from themselves. Thank you for presenting the series. I hope to become a gold member soon."
Harriette Rovner Ferguson, LCSW
Throughout this series, when each webinar ends, the conversation begins.
And if you were able to join us for the webinar with Tara Brach, what was your biggest takeaway? Please share your responses in the comment section below.