It's common knowledge that caring for someone with PTSD sometimes leads to secondary trauma.
But researchers at the University of Utah wondered just how bad that secondary trauma could be.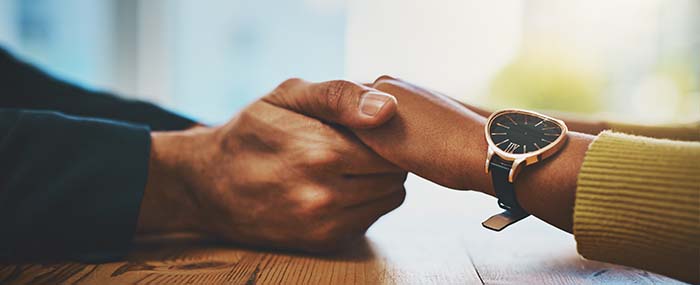 Could the partners of veterans with PTSD suffer just as much, if not more, than the veterans themselves?
Catherine Caska, a graduate student in clinical psychology, and her research team studied two groups of male veterans, along with their female partners. In 32 couples, the veterans suffered from PTSD, and in the control group of 33 couples, PTSD wasn't a factor.
The veterans in both groups had been deployed to Iraq or Afghanistan at least once in the past decade.
After the researchers interviewed the couples to measure PTSD, depression, marital satisfaction, and areas of disagreement, they asked the couples to undergo a brief experiment.
Researchers asked each couple to discuss a current issue that they disagreed strongly about. The conversation was made up of three phases: an introductory unstructured discussion, a structured segment where the partners took turns listening and speaking, and a final unstructured discussion.
Before and after the conversation, researchers took physiological measurements from both partners, including blood pressure and heart rate.
Some of their findings probably won't surprise you. Both veterans and partners in the PTSD group reported significantly higher emotional stress, measured through disaffection and disharmony. They also reported problems with frequent and intense emotional conflict.
But when they looked at the physiological measurements, researchers found something particularly interesting.
While the couples in the PTSD group showed elevated blood pressure during the conversation relative to controls, the partners of the veterans in particular showed the highest blood pressure – even compared to the veterans themselves.
It's important to note that this study didn't use random assignment when selecting its sample, so there's a limit to how much we can generalize its results.
Although it's very preliminary, this research suggests that PTSD can have far reaching and significant physiological impact even among people who don't suffer from it.
Of course, the blood pressure finding stood alone in this study. I'd like to see more research that examines other physiological and mental factors with the partners of post-traumatic stress sufferers. If PTSD really carries significant health risks for the partners of veterans, we'd expect to see them show up in research.
If you're interested in reading the full study, its results will be published following a presentation at the annual meeting of the American Psychosomatic Society.
Have you ever worked with the partners of clients who suffer from PTSD? What kinds of advice have you given them? Please leave a comment below with your thoughts.