If you've ever seen a loved one go through the agony of cancer, or experienced it firsthand, you know the emotional toll it can take . . . and exploring every possible means of relief can be vital to recovery.
So could practicing mindfulness help?
Caroline Hoffman, PhD and her team of researchers wanted to find out if Mindfulness-Based Stress Reduction (MBSR) could be more effective than standard care in boosting the mood, health-related quality of life, and well-being of women with stage 0 to III breast cancer.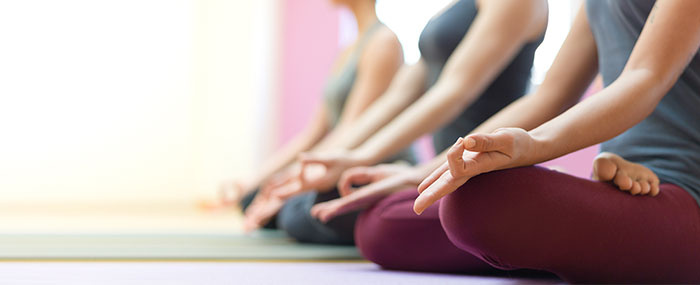 The researchers recruited 229 women diagnosed with stage 0 to III breast cancer who had recently completed surgery, chemotherapy, and/or radiotherapy. They then assigned the women to either an 8-week MBSR program or a waitlist control group.
The women in the MBSR group received eight weeks of mindfulness training that included the practice of formal techniques like sitting meditation, body scans, and yoga-based stretching.
Home practice was critical to the study as well – researchers required participants to engage in mindfulness for 40 to 45 minutes six or seven days a week on top of each weekly two-hour class.
In the meantime, women in the waitlisted control group were evaluated alongside the experimental group for mood, quality of life, and well-being at weeks 0, 8, and 12 before eventually receiving their own mindfulness training once the study period ended.
Researchers surveyed both groups using self-report questionnaires, including the Profile of Mood States, the Functional Assessment of Cancer Therapy-Breast, the Functional Assessment of Cancer Therapy-Endocrine Systems, and the WHO five-item well-being questionnaire.
Here's what they found.
The women trained in MBSR enjoyed significant improvements in general mood and well-being, as well as better quality of life related to illness and health stressors than did the control group at both 8 and 12 weeks.
It's particularly exciting to hear that the results held up after 12 weeks – this study is one of the few I've seen that uncovers notable benefits of MBSR on mood in cancer patients after 3 months of practice.
The full study is available in the April 20, 2012 issue of the Journal of Clinical Oncology.
These findings are encouraging – especially for women living with stage 0 to III breast cancer.
Of course, I would also be interested to see the results of longer-term follow-up periods, as well as an active control group, in future studies.
But in the meantime, researchers continue to investigate and discover new ways we can all experience the benefits of mindfulness.
That's why we've brought together leading experts on mindfulness. Click here to check out our courses.
Have you ever tried mindfulness with a patient experiencing or recovering from an illness? Please tell us about it in the comments below.