Well, Election Day has come and gone here in the United States, and we've all had a day to celebrate our candidate's victory or lament his defeat.
But whether your contender won or lost last night, I can't help but feel that a lot of us share at least one common sentiment . . . relief that the constant bombardment of negative campaign ads has come to an end.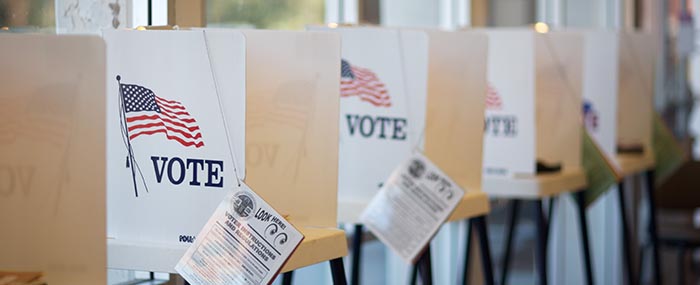 I'd imagine that the frequency of the messages – combined with the amount of vitriol within many of them – might have exhausted even the most ardent of political junkies, much less the rest of us.
Now, I realize the campaign ads themselves are relatively minor in the grand scheme – not to mention temporary. But it's the added negativity – so prevalent in so many areas, not just politics – that we really need to guard against.
And actually, we've been talking a lot about this in our Mindfulness webinar series. How can we meet each day, including the most stressful or disheartening parts of it, with a stable mind and a steady heart?
Just last night I hosted Jack Kornfield, PhD, and he shared some transformative insight about the ways we can move through each day, no matter what each one brings, with a calmer presence and a sense of greater peace.
I was especially moved by some thoughts shared by our listeners after the call.
Evelyn, a counselor from Wisconsin, shared her practice for finding calm throughout each day:
"Several years ago I started the practice of 'minute meditations' every hour on the hour … In the minute meditations, I just listen. Another practice that I do is to wait overnight before I send especially important responses to emails." During a time when we might have heated disagreements with family and colleagues about politics, Evelyn's strategy seems like inspired advice to me.
Of course, even when we consider our words carefully, it might be better to use no words at all. Christine, a counselor from Pennsylvania, shared this insight: "One thing I will do this week with my clients is invite them to sit quietly at the beginning of the session to tune in to the presence in their body … Sometimes I become impatient and this is a much more compassionate response and a way to model the mindfulness practice without a lot of verbiage."
For our listeners – and for me, too – it was so restorative to hear Jack's wisdom about how mindfulness can broaden our capacity for compassion and loving awareness.
If you want to learn more, check out our courses on mindfulness.
So do you (or any of your patients) rely on any aspect of mindfulness to get centered during a hectic day? If so, please tell us about it in the comments.