The turkey's in the oven, pies are cooling in the garage, you've moved the cars so everyone has somewhere to park, and you've somehow squeezed every appetizer platter onto the dining room table.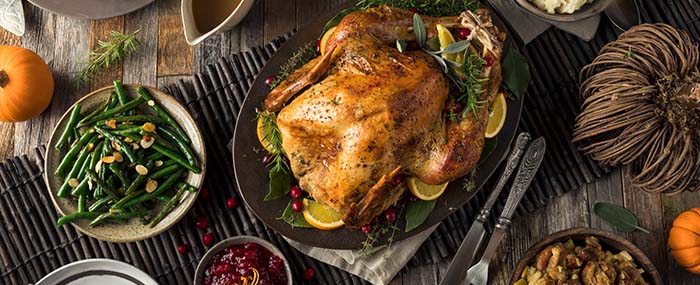 But you're also dealing with family arguments, a sick nephew, a surprise "guest" (your in-laws brought their new puppy) . . . and something's burning.
Amidst all the chaos, a little mindfulness meditation might help you de-stress.
In fact, mindfulness can be one of the healthiest ways to handle stress. That's important – a recent study suggests that dealing with stress the wrong way could have lasting effects.
David Almeida, PhD, a professor of human development and family studies at Penn State, suspected that how people react to the stressful events of everyday life could actually impact their health years later.
To get a snapshot of daily stress, researchers surveyed 2,000 individuals by phone every night for eight days. They asked questions about participants' moods, what had happened to them, the physical symptoms they'd felt, and anything stressful that they'd experienced, like arguments, for instance.
They also asked how they were responding to those stressful events – whether they were ruminating over them, for example.
Researchers also collected saliva samples on four of those eight days which they used to measure cortisol – a hormone released in response to stress.
Finally, they linked the 2,000 participants to a whole host of data from a larger study – including their demographic information and chronic health conditions.
The entire process happened twice – once in 1995, and again ten years later. This longitudinal approach allowed the researchers to measure how stressful experiences affect people well after the actual event is over.
So what did they find?
People who persisted in dwelling on stressors – even after they had ceased – were significantly more likely to suffer chronic health problems ten years later.
And, they noticed a particular connection between stress and pain conditions, such as arthritis, as well as cardiovascular issues.
I like this study because it keeps the order of events clear. In other words, because we know the health problems came after the stress, we don't have to wonder whether dwelling on it led to health problems or the other way around.
Of course, it's still possible that something else causes both. For example, a certain type of person might be more likely to dwell on stress and experience health problems.
Nevertheless, this is useful research, and it's also helpful wisdom.
This Thanksgiving, if we can manage to keep the stress of cooking, cleaning and entertaining guests from getting to us, we'll be able to enjoy the holiday so much more . . . and help prevent possible stress-induced health problems later on.
The full study was published in the Annals of Behavioral Medicine.
Practicing mindfulness is one simple way we can weather the stress of everyday life. For easy and effective mindfulness tips from some leading experts, check these courses out.
How do you manage the stress of the holiday season? Please share your thoughts in the comments below.