A lot of us dread the onset of flu season . . .
. . . because nothing really helps when you've got the flu. There's no magic pill – just bed rest and plenty of fluids . . .
But here's a provocative thought: Could mindfulness meditation actually prevent influenza (and other acute respiratory infections)?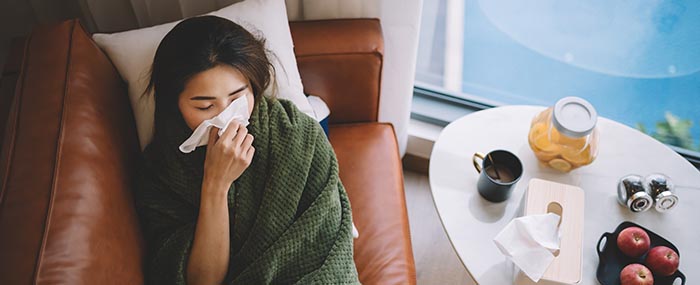 Bruce Barrett, MD, PhD and researchers from the Department of Family Medicine at the University of Wisconsin had a hunch that improving general health – both mental and physical – would mean reduced susceptibility to acute respiratory infections.
So, they ran a randomized, controlled experiment to find out.
154 adults over the age of 50 were randomly assigned to one of three interventions. To study mental health, they gave one group a mindfulness-based stress reduction course. To look at physical health, they gave a second group an exercise regimen.
A third group served as an observation-only control group.
Both the mindfulness course and the exercise regimen lasted for 8 weeks, and the observation period lasted from September through May.
They monitored participants with bi-weekly phone calls. When someone answered "yes" to the question "Do you think you are coming down with a cold?" researchers took a nasal wash and participants began recording their symptoms.
People in each group also recorded their visits to health care facilities and their missed days of work or school.
All together, participants in the mindfulness group experienced significantly shorter durations of illness. They also reported significantly lower mean illness severity scores as measured by the Wisconsin Upper Respiratory Symptom Survey.
For the exercise group, only the duration of illness was significantly shorter.
Beyond that, the meditation group had a 76% lower rate of respiratory-related absenteeism compared with the control group.
There is no proven strategy for preventing acute respiratory illness (other than hand washing).
That's why, according to Dr. Barrett, these results are so interesting. Mindfulness meditation might indeed play a role in solving a health problem that nothing else can touch.
You can read the full study in The Annals of Family Medicine.
Please share your thoughts. Could mindfulness be a useful illness prevention strategy?