I played with marbles as a kid. Did you?
Now I'm wondering if those little round stones can have an impact on memory and emotions.
According to a new study published in Cognition, simple motor functioning like playing with marbles may trigger memories.
Daniel Casasanto, PhD (Donders Center for Brain, Cognition, & Behavior, Nijmegen, New Zealand) and Katinka Dijkstra, PhD (Erasmus University, Rotterdam, the Netherlands) looked at psycholinguistics – how language and bodily experience can shape the mind.
When talking about the negative and the positive, individuals most often use spatial metaphors (e.g. "on top of the world" or "down in the dumps"). If we use spatial metaphors to discuss emotional states, do these metaphors also make us think about the emotions?
Casasanto and Kijkstra wanted to see whether seemingly meaningless motor functions could make people remember the good and bad.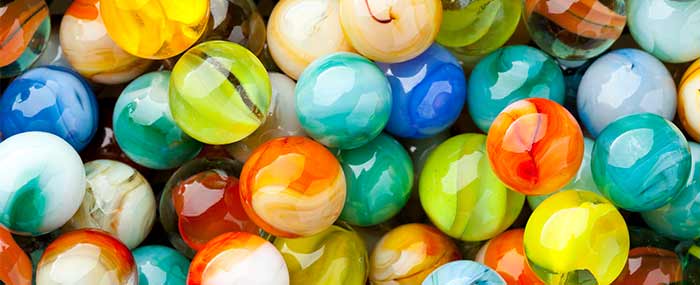 They first had participants move marbles up and down while recounting select memories. Participants spoke more quickly of positive memories when their marbles were going up and of negative memories when their marbles were moving down.
In a second experiment, individuals continued to move marbles up and down while being asked neutral questions (e.g. "What happened today in school?").
Answers to these neutral questions were at least in part determined by the direction in which their marble was traveling. A majority of participants recounted positive memories when moving marbles up and negative when moving marbles down.
This research may show that motor functions play a role in helping us retrieve memories, both good and bad.
But why do we care?
This could be critical, not only for the average individual, but especially for clients who have endured trauma and overwhelmingly negative experiences in their lives. Obviously more research needs to be done.
Practitioners are almost on fire right now, integrating the latest research on neuroplasticity and neurogenesis into the treatments that we use with our patients.
That's why NICABM created the teleseminar series on The New Brain Science.
Come join us. You can sign up here.