When clients experience anxiety, their first response is often to avoid whatever (or whomever) might be causing it.
But when clients become trapped in a cycle of avoidance, it can keep them from the very activities and people they value most. So how can we help clients see the cost of their avoidance strategies – as well as the benefits of working through their fears to reach their goals?
In the infographic below are four questions you can ask to help guide clients through their fear and anxiety. This is based on the work of Kelly McGonigal, PhD.
Have a look.
Click the image to enlarge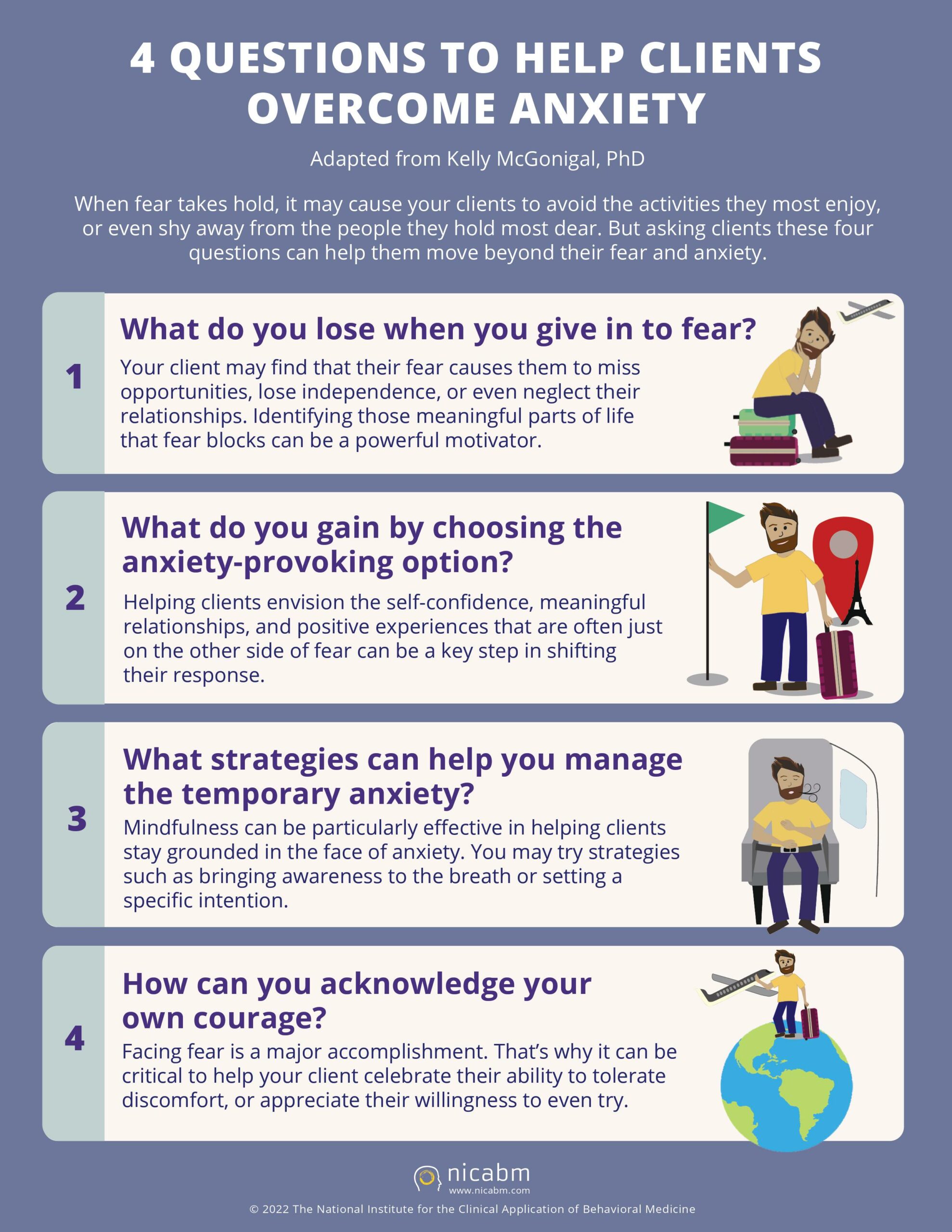 Click here for the text-only version of the infographic
4 Questions to Help Clients Overcome Anxiety
Adapted from Kelly McGonigal, PhDWhen anxiety takes hold, it may cause your client to avoid the activities they most enjoy, or even shy away from the people they hold most dear. But asking clients these four questions can help them move beyond their fear and anxiety.
1. What do you lose when you give in to fear?
Your client may find that their fear causes them to miss opportunities, lose independence, or even neglect their relationships. Identifying those meaningful parts of life that fear blocks can be a powerful motivator.
2. What do you gain by choosing the anxiety-provoking option?
Helping clients envision the self-confidence, meaningful relationships, and positive experiences that are often just on the other side of fear can be a key step in shifting their response.
3. What strategies can help you manage the temporary anxiety?
Mindfulness can be particularly effective in helping clients stay grounded in the face of anxiety. You may try strategies such as bringing awareness to the breath or setting a specific intention.
4. How can you acknowledge your own courage?
Facing fear is a major accomplishment. That's why it can be critical to help your client celebrate their ability to tolerate discomfort, or appreciate their willingness to even try.
(If you're sharing this infographic, please attribute it to NICABM. We put a lot of work into creating these resources for you. And if you're sharing this digitally, please link back to this page in your attribution. Thanks!)
If you'd like to print a copy, you can use one of these links:
Now we'd like to hear from you. How do you help clients work through their anxiety? Please let us know in the comments below.
For more expert strategies to help clients face fear and anxiety, check out this course on working with anxiety with Ron Siegel, PsyD.