Use the 1/2 rule. Aim for 1/2 as much protein and carbohydrates while doubling your servings of vegetables and fruit…
…walk around inside your house, or even outside, while talking on the phone…
…or drink a tall glass of water before you eat – it's easy to mistake thirst for hunger.
Over the last two weeks, I've incorporated these three small changes into my regular routine. It was part of our challenge to pick three simple changes and commit to them for ten days.
But we've also been doing a little experiment of our own here in the office.
A couple of months ago, I bought a Fitbit for everyone on staff.
It's a nifty little gadget that clips onto your clothing and tracks your activity level throughout the day – number of steps, distance, flights of stairs, and how many minutes per day you were extra active.
The program was voluntary, but as it turned out, almost everyone wanted to give this a try. But to make the experiment a little more interesting (and add a little bit of friendly competition into the mix), I divided the group into two teams . . .
. . . and from there it was easy. All we had to do was put on our little tracking devices when we got dressed in the morning and go about our daily routines.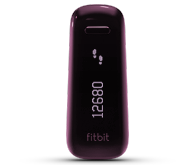 The Fitbit wirelessly tracks data from each of us on a website where we can easily see how we are doing, both individually and as a team.
So, did tracking our daily activity levels make any difference?
To find out, I asked each person to complete a survey (this was voluntary too).
We found that almost everyone wore it daily, the only deviations coming from the few people who said they just forgot to put it on in the morning.
But I was really interested to see if wearing it had any impact on daily activity, and if it did, what change occurred?
The majority of our staff reported that wearing the Fitbit actually encouraged them to be more aware of, and in most cases, to increase their level of activity.
Everyone who participated in the survey said they planned to keep using their device even though our challenge ended, and I was pretty excited when two people responded with…
… "Can we do this again?"
The challenge certainly made us more mindful about being active, and it was cool to see just how many steps we'd each taken at the end of every day, just by checking our Fitbit.
So now I'd like to hear what you think . . .
. . . what are some things you've done or perhaps suggested to a patient to encourage a more active lifestyle? Please share your experience below.