We know that in the face of threat, the nervous system responds in ways designed to help keep us safe.
For example, if your client was under physical attack, their nervous system may have gone into fight, flight, or freeze.
But of course, that's only one type of threat. And the responses that might be helpful in that situation would likely be counterproductive for a child who was abandoned.
You see, top researchers like Karlen Lyons-Ruth, PhD have encountered a different nervous system response in clients with an abandonment history – and it helps explain why the scars of abandonment often affect a client's relationships long into adulthood.
We put it all together in an infographic that you can share with your clients.
Have a look.
Click the image to enlarge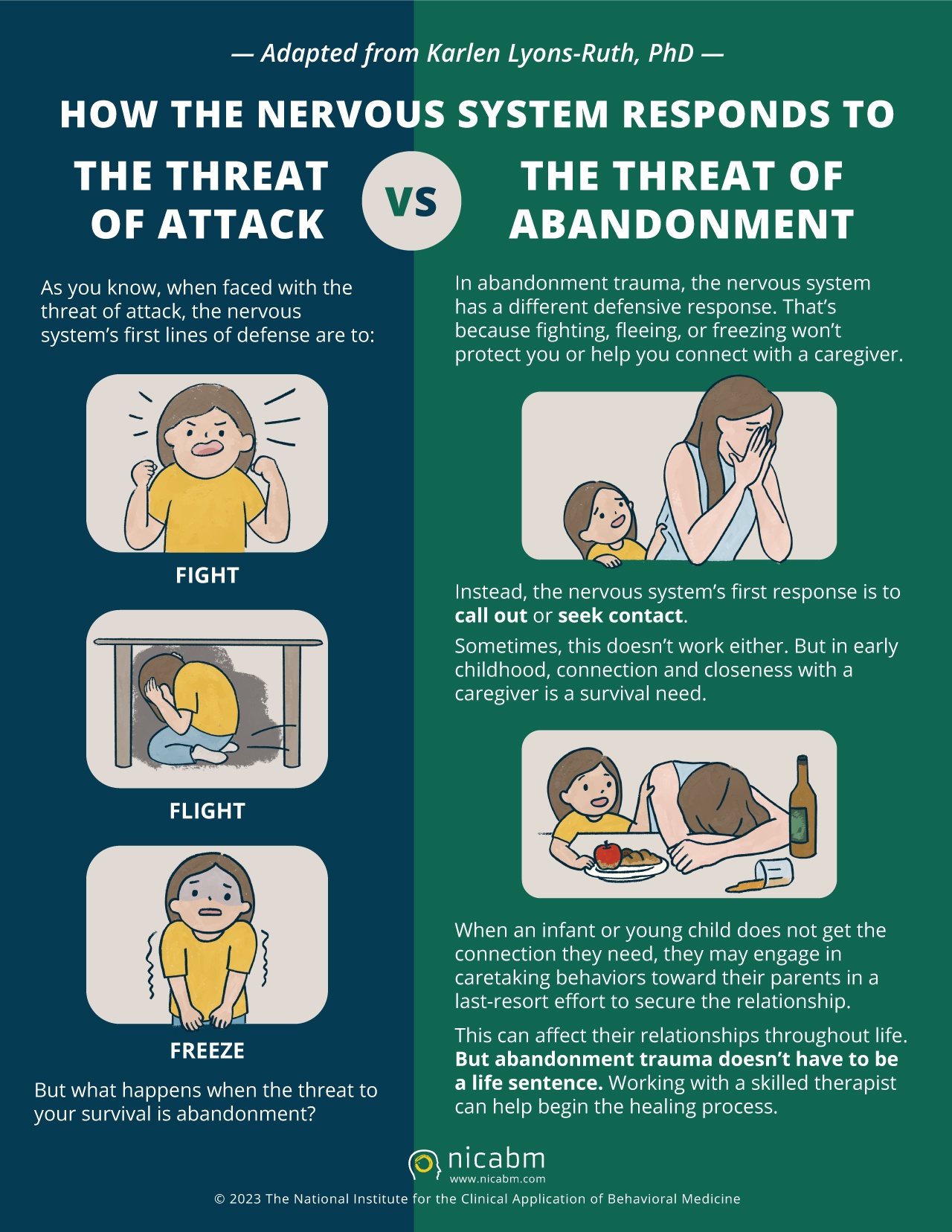 Click here for the text-only version of the infographic
How the Nervous System Responds to the Threat of Attack vs. the Threat of Abandonment

As you know, when faced with the threat of attack, the nervous system's first lines of defense are to:

1. Fight
2. Flight
3. Freeze

But what happens when the threat to your survival is abandonment?

In abandonment trauma, the nervous system has a different defensive response. That's because fighting, fleeing, or freezing won't protect you or help you connect with a caregiver.

Instead, the nervous system's first response is to call out or seek contact.

Sometimes, this doesn't work either. But in early childhood, connection and closeness with a caregiver is a survival need.

When an infant or child does not get the connection they need, they may engage in caretaking behaviors toward their parents in a last-resort effort to secure the relationship.

This can affect their relationships throughout life.

But abandonment trauma doesn't have to be a life sentence. Working with a skilled therapist can help begin the healing process.


(If you're sharing this infographic, please be sure to include the copyright information. We put a lot of work into creating these resources for you. Thanks!)
If you'd like to print a copy, just use one of these links:
If you're looking for expert strategies to help work with the enduring impact of abandonment, check out Mastering the Treatment of Trauma.
You'll hear from Bessel van der Kolk, MD; Janina Fisher, PhD; Karlen Lyons-Ruth, PhD; Ruth Lanius, MD, PhD; Martin Teicher, MD, PhD; and other top experts.
Just sign up here.
Now we'd like to hear your takeaways from this infographic. You can leave a comment below to let us know.