If you've ever felt too depressed to solve a problem, it might be because your brain is having a hard time regulating your emotions.
One solution? Mindfulness training.
Zindel Segal, PhD and his colleagues at the University of Toronto were curious to see whether mindfulness training could alter the experience of emotions, particularly sadness.
They randomly assigned 36 participants to one of two groups.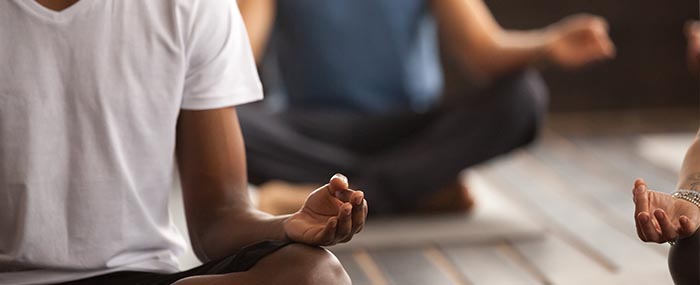 The first group received mindfulness-based stress reduction training, where mindfulness was taught through meditation, yoga, and self-guided CDs for 8 weeks. The second group was put on a waitlist to serve as a control.
Both groups were given brain scans and their images recorded.
They were then shown sets of edited film clips to provoke their emotions. Half of the clips were neutral, including wood-cutting and gardening. The other half were sad clips taken from two Hollywood films.
Participants watched the clips in sets alternating between neutral and sad to limit residual emotions.
In between the clips, participants had a 30-second reflection period. Afterward, they were asked to rate their level of sadness on a scale from 1 to 5.
Both groups reported similar levels of sadness after watching the videos.
But the scans after viewing the film clips revealed a significant difference in the brains of the two groups, specifically in the areas that were activated and deactivated.
The control group had greater activations in the left side of their brains, including areas for memory retrieval, language, and most importantly, self-referencing.
On the other hand, the group that received mindfulness training had more balanced activations in both the left and right sides of the brain. In other words, the mindfulness group showed less self-referencing while experiencing emotion than the control group.
These results suggest that by reducing the activation of the region associated with the self, mindfulness can help patients view their emotions from a more detached perspective.
Personally, that has certainly been true for me.
This means that patients may be able to think more clearly and generate new strategies to resolve their issues without emotional interference.
If you'd like to know more, you can find the full study in the 10th volume of Emotion, 2010.
Improved clarity during emotional periods is just one of the benefits of mindfulness.
Has mindfulness ever helped your clients maintain clarity during difficult emotional periods? Please share your experience in the comments below.