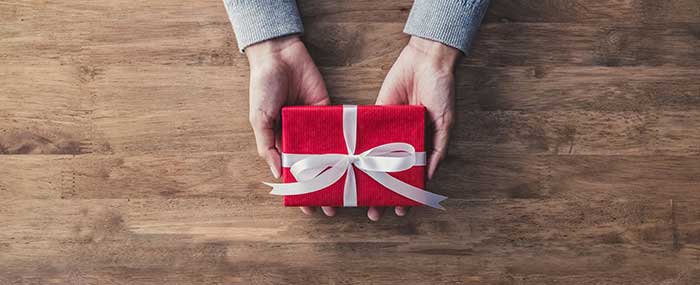 Each passing year brings its own unique blend of ups, downs, and "in-betweens". . .
. . . but ultimately, I often find myself feeling so blessed and grateful this time of year as I reflect back over it all.
I've made some wonderful new friends, managed to stay in touch with those who are dear to me, and branched out in some new and exciting directions with NICABM.
And as the holiday season rolls back around again, one of the things that brings me the most fulfillment is having the opportunity to give back.
It's interesting – studies have shown that certain parts of the brain actually light up when we give. And giving can also release oxytocin in the brain – a "feel good" hormone that helps counteract stress, reduce cravings, and even speed healing.
For the past three years, I've been so honored to be able to set substantial goals for NICABM's charitable giving, and this year is no different.
Here's what we've given:
$27,000 – Smile Train
$25,000 – Save the Children (to feed Syrian children caught in the refugee crisis)
$22,742 – Direct Relief (for medical supplies and aid to survivors of the super-typhoon in the Philippines)
$22,000 – buildOn
$21,000 – Citizen's Foundation (to help educate children in Pakistan)
$5,000 – Windham Region No Freeze Shelter
$5,000 – Covenant Soup Kitchen
$5,000 – Connecticut Public Broadcasting
$5,500 – Human Rights Campaign
$2,000 – WAIM
$2,000 – FINCA
$2,000 – Salvation Army
$2,000 – Southern Poverty Law Center
$1,000 – Jorgensen Center for the Performing Arts
$1,000 – Amnesty International
$1,000 – Sierra Club
$1,000 – Amherst NPR Station
$1,000 – WGBH
$1,000 – Oxfam America
$1,000 – Washington DC Insight Meditation
$1,000 – GLAD
$1,000 – Human Rights Watch
$1,000 – Windham Hospital Foundation
$1,000 – CT Audubon Society
$1,000 – Mansfield Holiday Fund
$1,000 – AmeriCares
$1,000 – International Rescue Committee
$700 – National Alliance on Mental Illness
$500 – Taylor University
$500 – Michigan State University
$500 – Alzheimer's Association
$500 – Provincetown Art Association & Museum
$100 – Susan G. Komen
$100 – Women for Women
$100 – Our Companions
$100 – Windham Textile & History Museum
Total: $163,342
I'm already looking forward to what we'll be able to do next year.
And coming up soon, we'll be telling you about our Holiday Special. We'll not only significantly reduce the price of one of our programs, we'll also give half of the proceeds to charity.
But which one? Well, it's tradition for the staff here at NICABM to choose, and I'll let you know how the voting went very soon.
So how about you? Whether you choose to donate money, time, or simply help a friend in need, what's your favorite way to give back? Please let us know in the comment section below.