Beginning at a young age, I was taught to give as I had received . . .
. . . so when I began NICABM, I made it a cornerstone of our organization that we would give back to those who are in need.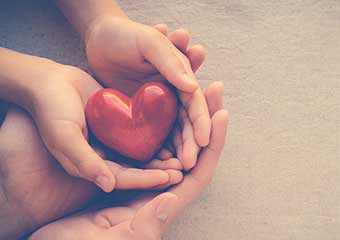 I always like to take some time at the end of the year to reflect on what we've accomplished professionally. At the same time, it's important for me to hold myself accountable for that promise I made to make a difference while also making a profit.
This past year, it's been so rewarding to be able to share our work with you because with it, you are helping people transform their lives.
And it's been rewarding to continue setting meaningful goals over the past four years for NICABM's charitable donations (and this year has been no exception).
Here's what we've given this year:
$46,500 – Save the Children
$46,000 – One Acre Fund
$20,000 – Smile Train
$16,000 – Citizens Foundation (Supporting schools in Pakistan)
$5,000 – Human Rights Watch
$2,673 – World Teacher Aid
$2,000 – The Foundation for International Community Assistance
$2,000 – The Bowery Mission
$1,100 – Alzheimer's Association
$1,000 – Doctors Without Borders
$1,000 – Oxfam America
$1,000 – Southern Poverty Law Center
$1,000 – Sierra Club
$1,000 – GLAD
$1,000 – Amnesty International
$1,000 – Washington DC Insight Meditation
$1,500 – Barre Center for Buddhist Studies
$1,000 – Human Rights Campaign
$1,000 – World Wildlife Fund
$600 – Macular Degeneration Research
$500 – Women for Women
$500 – Michigan State University
$500 – Taylor University
$500 – Provincetown Art Association
$500 – Our Companions (Cat and Dog Shelter)
$200 – The National World War II Museum
$5,000 – Covenant Soup Kitchen
$5,000 – Windham Area Interfaith Ministry
$4,000 – Connecticut Public Television
$2,000 – Windham No Freeze Shelter
$2,000 – Salvation Army
$1,000 – Windham Hospital Foundation
$1,000 – WGBH Public Broadcasting Station (Boston)
$1,000 – Public Broadcasting Station (Amhurst)
$1,000 – National Alliance on Mental Illness
$1,000 – CFECT – Celebration of Women
$1,000 – University of Connecticut Foundation
$1,000 – Mansfield Holiday Fund
$1,000 – The William Benton Museum of Art at UCONN
$1,000 – UConn Foundation/JOY Program
$600 – UConn Foundation / Jorgensen CoStars
$300 – Community Council Charity Event (Cystic Fibrosis Foundation)
$100 – E.O. Smith Safe Grad Committee
Total: $183,073
As I look over this list, I already hope to exceed this next year.
And very shortly, we'll be announcing our Holiday Special. This has become a yearly tradition in which we lower the price of one of our programs, and also give half of the proceeds to charity.
There are so many worthwhile causes, and we'll let you know soon which one we've chosen for this year.
How about you? I always love to hear how folks are giving of their time, talent, or resources to others. Please tell me about your favorite ways to give in the comments below.