Do you remember what you felt like on your first day of high school?
When I look back, I can remember feeling uncertain and a little bit scared in that new place with those new people. But I can also remember feeling a spark of excitement at the beginning of a whole new adventure.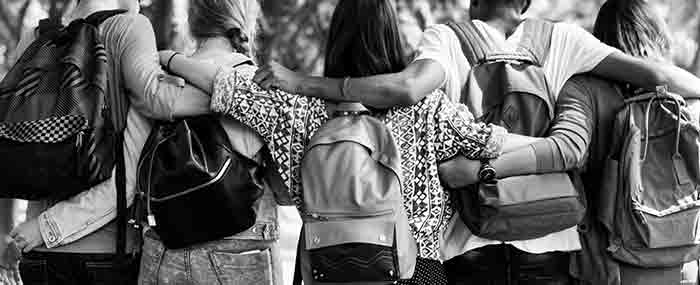 And many of the practitioners who signed up mentioned feeling this same way – a mix of excited and nervous – because they were about to embark down a path they had never explored before.
Some people, many actually, told us they were nervous about the technical side of things.
Some practitioners said they felt concerned about how to make an online program experiential.
But, like parents and teachers often do on the first day of class, I'm there to assure them that the staff and I will be with them every step of the way, and that we will be giving them the tools they need to build a program that can impact people in a whole new way.
The practitioners joining us for the program (I actually think of them as pioneers) have already got some great ideas in the works – I'm so excited about them that I just had to share a quick snapshot of a few of them:
Marzia Hassan, LLb, MSW from Toronto, Ontario, is a psychotherapist who works with couples and families in Toronto. She has been presenting online webinars on Parenting for Muslims for a couple of years, but her plan for these next six weeks is to develop an online program focused on helping people to enrich their marriages.
Kris Freeark, PhD, from Ann Arbor, MI, is a psychologist and family therapist who focuses on adoption, early childhood, and the power of open family communication. She plans to build a program to help adoptive parents understand what their child is thinking, and increase cooperation and sense of belonging in families.
And Michal Regav, PhD, from Vancouver, British Columbia, will be using her experience and expertise helping women struggling with depression and anxiety during and after pregnancy to build a program that can give them hope and help them realize they're not alone.
Now that's just a taste of some of the programs that will take shape during the training. There are so many different ideas. I'm excited to see them come together.
The next six weeks will be filled with learning, new experiences, and community-building as we delve into the steps it takes to build an online program.
I hope you'll send your own positive vibes to the practitioners who are embarking on this new journey, because they're part of something truly revolutionary. And when someone breaks through doing something new, it takes courage.
Have you ever had hesitations about starting something new? What were they? Please let us know in the comments section below.