For a while now, I've been trying to do my part.
I bring my canvas bags to the grocery store and the farmer's market. I recycle my newspapers and plastics, and lately I've been buying a lot more in glass and going to the local food co-op to refill those containers. And while I'm not a purist, I'm a believer in taking as many "small steps" to help the environment as I can.
And before Christmas, I made a promise to myself: to erase some of my "foot prints" when it came to the packaging and wrapping. There's just too much paper waste that comes along with the season's gift giving.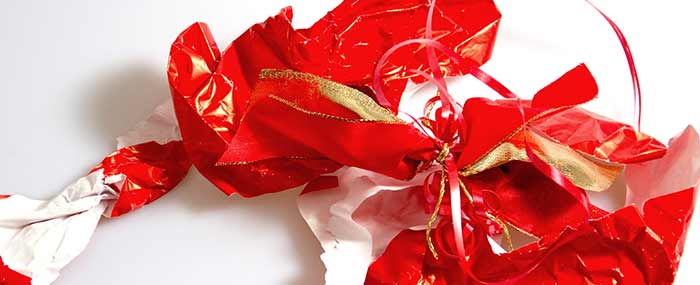 I don't know about Hanukah, but when it comes to the celebration of Christmas, the mass of wraps, bags, and ribbons would make Wise Men weep.
Why must the environment take a back seat in Santa's sleigh? Why must gift-giving be so destructive to our landfills?
And that's when I made a plan for this Christmas.
Now, it's not Christmas itself, but the wrappings of its celebration that I 'm talking about. For me, Christmas is about keeping holy the day that begins the story of my faith. It's about the hope of redemption for Christians around the world. It's about keeping for our children a religious and cultural heritage.
But consumerism surrounds the holiday, and has for quite awhile. And every year, we seem to outdo ourselves with stuff…the stuff that we get and the stuff we feel compelled to give.
And with all that stuff comes the packaging…the cardboard, the tissue paper, the wrapping paper, the ribbon, and the tinsel, and after its "day under the tree," it becomes a giant pile of twisted reds and greens in the land fill.
So, here was my plan. And again, this was only a small step plan, but nevertheless, one that would take me closer to a green Christmas.
Of course, I was giving gifts. I wasn't going to pass up a chance to buy a few clothes for my 88 and 86 year old mother and father who don't seem to buy any more for themselves. You can imagine their quip "Won't be needing them where we're going," but collars seem to fray and I still shop for them anyway.
But instead of wrapping my gifts, I decided to give them in their store's boxes.
And, once the opening was done, I collected all the boxes and brought them home. On the day after Christmas, instead of going to the transfer station with bags filled with Christmas debris, I schlepped all the hardly-used boxes back to their places of origin.
Frankly, I went in feeling a little nervous, wondering if they'd even take back their boxes. But I'd neatly refolded them into a flat stack, hoping they'd be persuaded to use them again.
Each time I was greeted with, first a perplexed look, and then a smile and a comment about a "green Christmas" as they accepted my boxes.
It's the season of hope and renewal. And also we give gifts. But it's also a time for taking care, and for next Christmas, maybe of bringing to the celebration even more green!
I'd love to hear your thoughts.