Can mindfulness meditation training make you more compassionate?
We'd all like to hope so . . .
. . . but we're biased. Most people probably think of themselves as compassionate, so it's easy for us to believe that meditation training is working.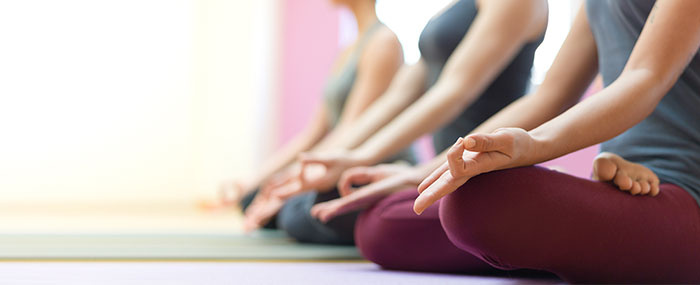 A group of researchers at the University of California, San Francisco wanted to find some firmer evidence.
They gathered 82 female schoolteachers, who they randomly assigned to a treatment condition or a waitlist.
The treatment group received a contemplative training program that included mindfulness training, yoga, and emotional skills practice. The waitlist group received the same training – after the experiment was over.
To measure the training's effect, the teachers completed a series of emotionally provocative tasks three times: once before the training program, again immediately after the program, and a final time 5 months after the program's completion.
First, to measure self-evaluation, the teachers carried out a stressful performance task – giving a speech before an audience. After giving the speech, researchers asked them to report their thoughts.
To measure compassion, researchers instructed the teachers to complete two tasks. First, they tried to recognize a series of microexpressions – facial expressions of seven basic emotions displayed for only a fraction of a second.
They also viewed a series of images of suffering, some of which were designed to elicit compassion alone, or compassion and disgust together. After each image, the teachers saw a letter string, suggesting a word related to compassion, disgust, a neutral object, or a nonword. Researchers measured the speed with which the teachers associated images and words.
Here's what they found.
Teachers recognized the suffering of others significantly faster after completing the contemplative training, while the waitlist group showed no change. The treatment group also recognized the compassion-related words more quickly than the control group.
What's more, the treatment group reported significantly fewer negative self-evaluations after completing the performance task, suggesting that the contemplative training also improved self-compassion.
The really interesting thing about this research – aside from the comparatively robust sample size – is that it uses completion of tasks, rather than self-reports, to measure compassion.
This means that the teachers couldn't give biased responses, since they were presumably all trying to complete the association task as best they could.
However, there's one important flaw with this study. It only uses a wait-list control, so we can't be sure that meditation training is really what made the difference. Maybe people's compassion improved because they were getting attention from a concerned teacher. Maybe simply getting together in a group once a week helped.
Despite this weakness, I think this study is a good foundation for future research.
If you'd like to read more, you can find the full study in the journal Emotion.
Mindfulness doesn't just improve compassion, though. In fact, we've collected some remarkable evidence showing how mindfulness works in so many ways.
Do you have an especially memorable story of a time you helped a client work on compassion? Please share your experience in the comments below.