The US holiday of Thanksgiving may well be the healthiest day of the year.
Now that might sound a bit counterintuitive, given the amount of gravy, stuffing, mashed potatoes and pumpkin pie that often fills a person's Thanksgiving plate.
So I should be more precise. Giving thanks may make a key difference in our enjoying greater health.
Here's what I mean. I recently came across a study that looked at the impact of keeping a gratitude journal among patients diagnosed with Stage B heart failure (HF).
Heart failure is considered a progressive disorder. So a team of researchers from the University of California, San Diego designed a study to see if the practice of gratitude journaling might slow disease progression and symptom development, as well as improve patients' quality of life.
The research team recruited 70 men and women who had been classified as Stage B HF for a period of at least 3 months. Researchers conducted pre-test assessments that included a six-item gratitude questionnaire, resting heart rate variability, and an inflammatory biomarker index.
The biomarkers they focused on are known to be associated with progression of heart failure.
Now this is important because, although there have been numerous studies on the benefits of practicing gratitude, many have focused on improving social and psychological well-being rather than physical health.
And most of these studies have relied on self-report rather than objective health measures.
Participants were randomly assigned to either an 8-week gratitude journaling intervention group or a control group where they continued to receive treatment as usual.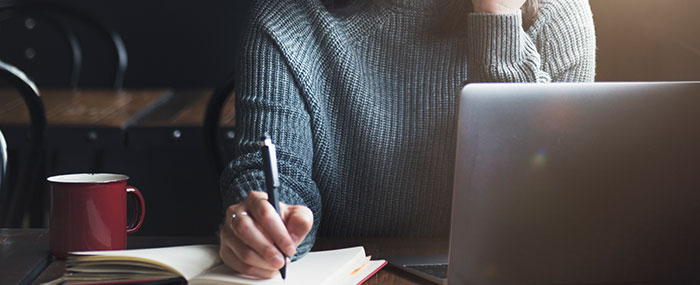 Members of the journaling group received instructions to record 3-5 things on a daily basis for which they were grateful.
Here's what the researchers found at the end of 8 weeks:
Compared with the "treatment as usual" group, the gratitude group showed improved gratitude scores, which isn't a surprise. But that's not the whole story.
The gratitude group also showed an association with reduced inflammatory biomarker index scores and increased parasympathetic heart rate variability.
As always, it's important to exercise caution when interpreting these kinds of results. We know that association is not the same as causation.
And the researchers themselves acknowledge the limitations of working with a small sample size. I hope they'll follow up with a large-scale version of this study.
Still, the results are encouraging.
So I encourage you to celebrate thanks-giving – and not just for one day out of the year.
If you'd like to check out the study for yourself, you can find it in Psychosomatic Medicine, 78(6): 667-676.
Now I'd like to hear from you. What experience have you had with an intentional gratitude practice – either for yourself or that you recommended for a client? How did it turn out?