One of my staff has a young daughter who is learning about meditation and breathing awareness. Four-year old Nadia will lie on her back, put a Snoopy stuffed animal on her chest, and try to rock Snoopy to sleep with her deep breathing.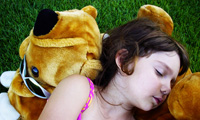 Does Snoopy fall asleep? Well, that's another story.
Like most things, meditation practices have to be tailored to the audience. Children in particular need creative methods of practice and up to a few years ago, there weren't too many resources available for both practitioners and parents to utilize.
I took an informal survey from my staff to see what resources they recommend using with children and I wanted to share some of them with you.
Some of my staff's favorite books are by meditator Kerry Lee McLean, who wrote such kid-friendly mindfulness books as Peaceful Piggy Meditation and Moody Cow Meditates.
Her books look at the benefits of meditation from a child's perspective, as well as provide some basic information on family meditation.
And which child wouldn't be intrigued by a mindfulness exercise called "A Mind in a Jar Experiment," which is included in her Peaceful Piggy Meditation book.
The Mindful Child by Susan Kaiser Greenland was another recommendation from a staff member who is also a parent.
Susan provides good exercises for use with school age children, though the exercises can be tailored for many ages. In addition to her book, her website has lots of resources available to help parents, educators, and the practitioner community integrate mindfulness into their interaction with children.
With a few exceptions, mindfulness meditation is something that can be used by people in all walks of life.
Are you interested in furthering your knowledge of the effects of mindfulness on the brain?
Do you want more ideas about how to integrate mindfulness into your practice?
We have created a new Mindfulness Webinar Series. We hope this expands the use of mindfulness meditation in health and mental health treatments.
What other child-centered mindfulness resources would you recommend? Please leave a comment below.