Being "good" at relationships doesn't just happen – we often have to work at it . . . and one trait that can strengthen relationships is empathy.
So how do we cultivate it in our patients and ourselves, and how does mindfulness meditation fit in?
Jennifer Mascaro, PhD and her colleagues at Emory University wanted to find out whether meditation training might help us read other people's feelings.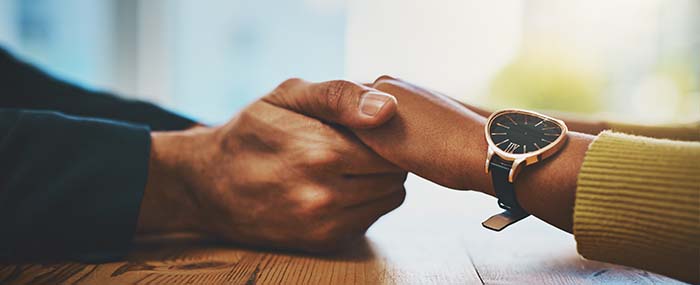 First, they recruited 21 healthy participants with no prior meditation experience and tested each of them on how well they perceived others' emotions.
Each participant took a modified version of the Reading the Mind in the Eyes Test (RMET) while having a functional MRI (fMRI) brain scan. The RMET is a series of black and white photos showing only the eye area of people with varying facial expressions. Test subjects are asked to identify which emotion best describes what the person in each photo is feeling.
Next, the researchers randomly assigned participants to either an eight-week Cognitively-Based Compassion Training (CBCT) course or a control group. The CBCT course included a combination of weekly training sessions and at-home mindfulness practice. The control group participated in health discussion classes on various mind-body topics but received no meditation training.
When the eight weeks were up, the researchers re-tested both groups.
And what did they find?
The majority of the meditators demonstrated improved RMET scores while the majority of the control group showed a decline in their performance on the test.
What I think is especially noteworthy is that this study suggests that mindfulness practice can both train and strengthen our ability to accurately assess facial expressions and emotional cues – and getting this right is essential in relating to and empathizing with others.
If you'd like to read the full study, it was published in the September 2012 edition of Social Cognitive and Affective Neuroscience.
Although I'd be interested to see another study with a larger sample size, I'm encouraged by these findings – we're continuing to see evidence that mindfulness practice can yield benefits in myriad situations.
And we've been talking about a lot of them in our Mindfulness courses.
Has mindfulness meditation had an impact on any of your patients' relationships? If so, we'd like to hear about it – please comment below.