As a psychologist, empathy is obviously important.
When people feel like they're getting compassion and understanding, they are much more likely to make the changes that up until now have felt all too scary.
But can empathy change our experience of pain? Does it have any impact upon how the brain responds to pain?
Researchers at Michigan State University wanted to find out whether certain types of doctor-patient interaction could influence how patients react to pain.
Issidoros Sarinopoulos, PhD and his colleagues randomly assigned participants to one of two groups.
One group received patient-centered interviews (PCI), a style that involves asking open-ended questions and encouraging a free-flowing conversation to address patient concerns about a procedure.
The other group, who served as the control, received standard clinician-centered interviews (CCI) that focused solely on gathering medical history and other clinical information.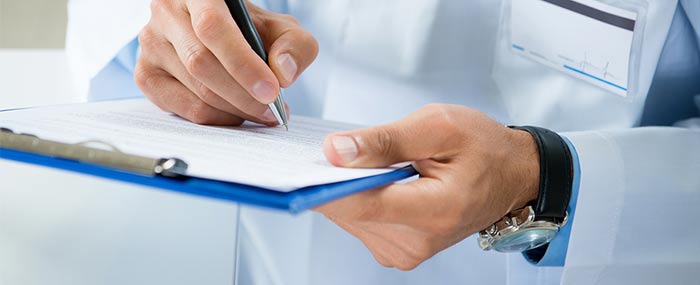 Participants in both groups filled out post interview questionnaires to rate the interviews, and, to no one's surprise, the PCI group reported higher satisfaction with their doctor and the experience.
Next, the patients all had a functional magnetic resonance imaging (fMRI) scan.
During the scan, researchers applied mildly painful stimulation to their left hand as they viewed photographs of either their interviewing doctor or an unfamiliar doctor.
The results revealed something fascinating about the power of empathy.
The PCI group showed a significant decrease in activity (in the left anterior insula) in response to pain while they looked at a picture of their interviewing doctor versus the unknown doctor.
What's more, the PCI group reported feeling less pain as they viewed photos of the familiar doctor.
By comparison, the CCI group (the control) demonstrated no significant difference between seeing their interviewing doctor versus the face of an unknown doctor.
While these results show how empathy can change the brain to help alleviate pain, we do need to note that more research is critical – this particular study was limited somewhat by its small sample size.
I'd also be interested to see further research to determine the strength and duration of the effect of empathic listening over a longer time period. Maybe someday we'll be talking about its half-life.
If you'd like to know more, the full study was published online in November 2012 in the journal Patient Education and Counseling.
This study reveals how even the most casual relationships and interactions can impact our brain, including even our experience of pain.
Click here to learn some other key ways to heal the mind and cultivate a healthy brain using mindfulness.
What kind of surprising effects have you found with empathy? Please share your comments below.