How does trauma affect the brain?
Well, one way we can look at that is to look at how trauma affects telomeres, which are protective caps on the ends of chromosomes that keep them from deteriorating.
As we age, telomeres naturally get shorter and eventually, die. So they make a great marker of cell aging and thus of overall health.
It's no secret that I love learning about telomeres.
I've reported in the past that exercise can help protect telomeres, while stress and depression can increase the rate of telomere shortening.
Aoife O'Donovan, PhD and her colleagues from the San Francisco VA Medical Center published a study in Biological Psychiatry, showing that adults with PTSD had significantly shorter telomeres than those without a history of PTSD.
But for the first time, researchers from Duke University and Kings College London have found that the same can be seen in children who have been exposed to trauma.
Led by Idan Shalev, PhD, researchers looked at 236 members of the Environmental-Risk Study (a longitudinal study that examined genetic and environmental factors of children born in Wales and England in 1994-1995).
They took DNA samples from the children at age 5, and then again at age 10. They also interviewed their mothers when the children were 5, 7, and 10 in order to compile a report of the children's exposure to violence.
Violence was considered in three forms: exposure to domestic violence between the mother and her partner, frequent subjection to bullying, and physical maltreatment by an adult.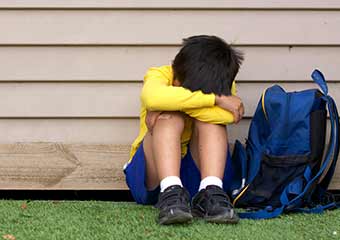 Of the 236 children who took part in the study, 42% of them had been exposed to violence by this criteria.
Researchers found that for children, cumulative exposure to violence resulted in the shortening of telomeres.
In all cases, visible aging of telomeres was found and in fact, the level of telomere deterioration increased
if the child was exposed to multiple forms of violence.
As you know, I'm always cautious of studies that don't use a randomized controlled design, but in this case, you couldn't and wouldn't want to randomly assign certain children to be bullied or exposed to other forms of violence.
But, the study is longitudinal, which means researchers looked at results over a period of time. This type of study does hold its own scientific merit, and is a good alternative in a situation like this one.
You can read the entire study in Molecular Psychiatry.
This research is one more piece of evidence revealing how trauma is experienced not only in the body, but also in the brain.
But, if I've learned anything from mind-body medicine, and the more recent discoveries in working with neuroplasticity, it's that it's never too late to heal.
What interventions have you used to treat young patients? Please leave a comment below.