After trauma, it can seem like the lower brain – the parts responsible for our emotional reactions and our defense system – has been severed from the upper thinking brain.
This can leave clients feeling the heat of their emotions, but without insight or cognitive reflection.
So when we think about treating trauma, our clinical choice can sometimes boil down to one key question:
Would this client experience a better outcome with a top-down approach or does this client need more of a bottom-up approach?
You see, bottom-up approaches zero in on a client's raw emotions and defense systems by working with clients to modulate their bodies. Meanwhile, top-down approaches look to shift the way a client thinks – whether it's veering them away from unhelpful rumination or encouraging curiosity for their reactions.
So we designed a tool to help you conceptualize the clinical options you might consider in working with a client who has experienced trauma.
Click the image to enlarge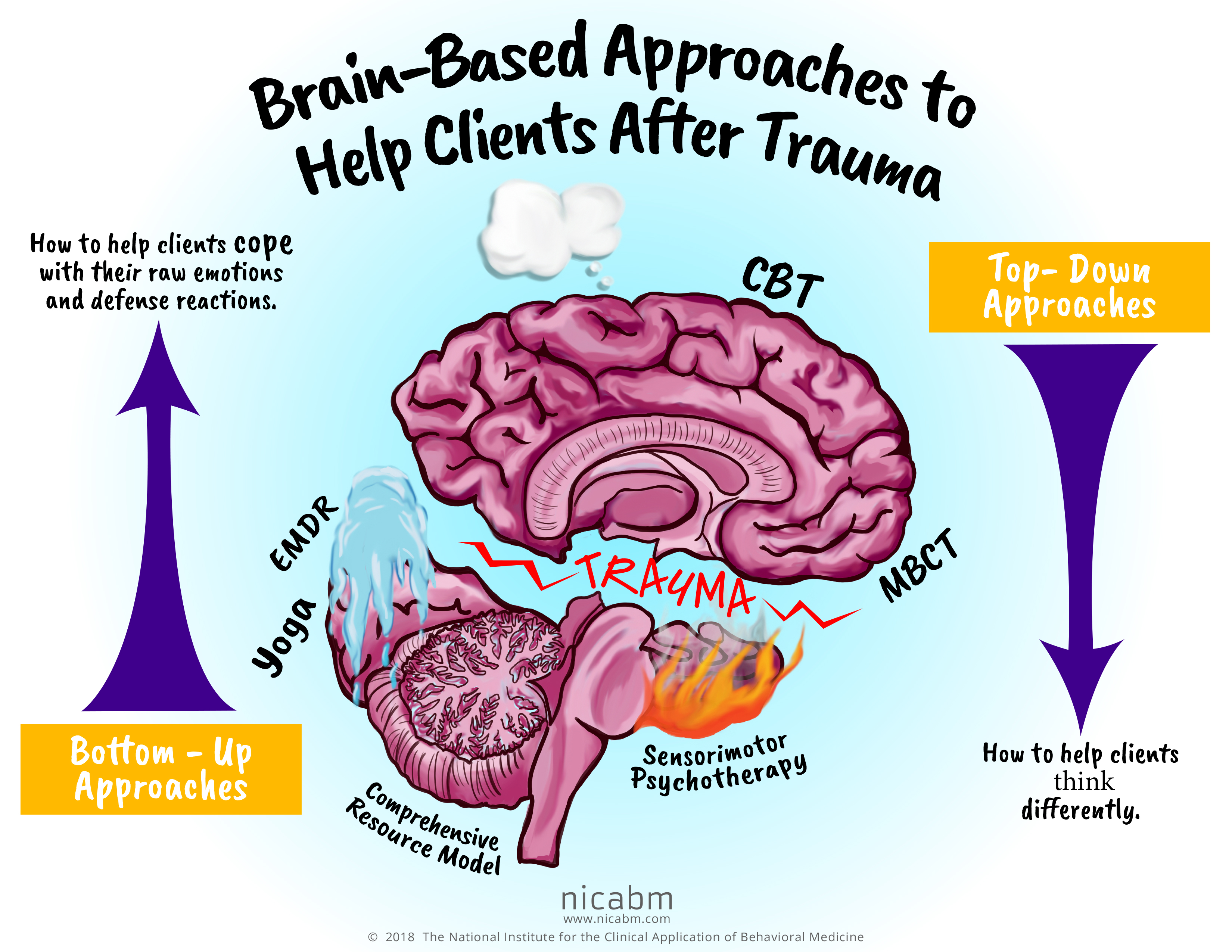 Click here for the text-only version of the infographic
Brain-Based Approaches to Help Clients After Trauma
Bottom-Up Approaches
How to help clients cope with their raw emotions and defense reactions.
Top-Down Approaches
How to help clients think differently,
While either path can help a client begin to self-regulate, you need the right approach for each specific client.
It's also worth noting that your client may benefit from a mix of both approaches.
You see, a blend of both can help clients begin to cope with their bodily experiences of trauma while they begin to think and feel differently about their experiences, their emotions, and ultimately themselves.
If you'd like to print a copy for yourself, just click here: Color or Print-friendly.
For more strategies you can use to help clients who've experienced trauma, be sure to check out the Treating Trauma Master Series.
You'll get insights from Bessel van der Kolk, MD; Dan Siegel, MD; Pat Ogden, PhD; Stephen Porges, PhD; Peter Levine, PhD; Allan Schore, PhD; and Ruth Lanius, MD, PhD.
Now we'd like to hear from you. What have you found in choosing whether to use a top-down or bottom-up approach?
Please leave a comment below.