Could there be a connection between autism and the gastrointestinal system?
A team of researchers led by Elaine Y. Hsiao of the California Institute of Technology recently noted that a subset of people diagnosed with autism also display a spectrum of gastrointestinal abnormalities.
So to test this, her researchers injected mice with an immunostimulant known to produce offspring that display both behavioral and neuropathological symptoms of autism.
But in addition to symptoms of autism, these offspring showed a significant deficit in the structure of their intestinal walls – a condition commonly referred to as "leaky gut syndrome."
Hsiao's team then randomly selected mice for treatment with a particular type of human commensal bacteria (the healthy, symbiotic kind that the human body needs) to see how it would affect intestinal defects as well as behavior.
Every other day over a period of 6 days after weaning, one group of mice received a dose of bacteria in their food pellets while those in the control group did not. Then, the researchers added a sodium salt solution to drinking water to induce colitis in order to test intestinal structure.
And the results were fascinating.
Researchers found that the bacteria treatment corrected intestinal defects in the mice. Not only that but it seemed to alter elements of their body chemistry associated with autism-related behaviors.
In addition, by observing behaviors such as open field exploration, marble burying, social interaction, and vocalizations, Hsiao and her team noted a decrease in abnormal communication, sensorimotor, and anxiety-like behaviors among the mice that received the bacteria treatment.
So – back to the question we started with. Could there be a connection between autism spectrum disorders and
gastrointestinal issues?
Well maybe.
Of course we can't generalize these findings conducted with mice to a human population.
But in some cases, probiotic treatments have demonstrated benefits in treating psychosocial distress and chronic fatigue symptoms in humans.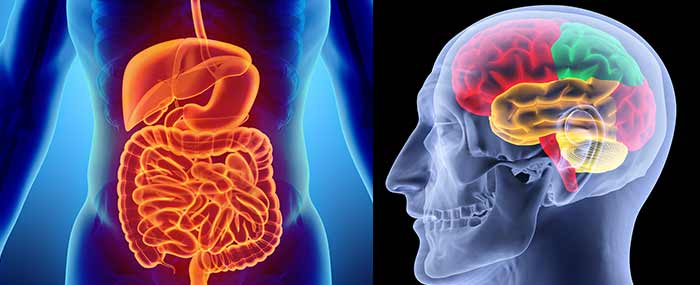 This line of research is also intriguing because behaviors that are characteristic to autism spectrum disorders are also seen in other neurological diseases such as schizophrenia, obsessive compulsive disorder, and Prader-Willi syndrome.
So this research could hold promise for a number of people suffering from a wide range of disorders.
If you'd like to read the study in its entirety, you can find it in the December 19, 2013 issue of Cell.
Once again, scientists are uncovering deeper connections between overall brain and body health.
And, in our Practical Brain Science series, we've got leading experts who get into practical interventions that can help you work with the body to strengthen brain health – click here to sign up.
What connections have you seen between gastrointestinal issues and mental health in your work with patients?
Please leave a comment below.