If you're exhausted, drained, tired of it all, outraged, or numb, it's understandable. Give yourself space and time to breathe and grieve. Rest and restore. – Thema Bryant-Davis, PhD
Just over a year ago, our lives changed forever. When COVID hit and we were forced into lockdown, most of us were longing for the day when our lives would return to normal.
And here we are, with vaccines now becoming available and infection rates declining, it felt for a split second as though we might be on the cusp of returning to something approaching normalcy.
How easily we'd forgotten that our "old normal" included things like mass shootings. And now? Now it seems they've returned with a vengeance.
It's almost as though we're emerging from one wave of grief only to be hurled into a new one. Or, more accurately, into an old, painful, and seemingly unrelenting one.
What are we to do?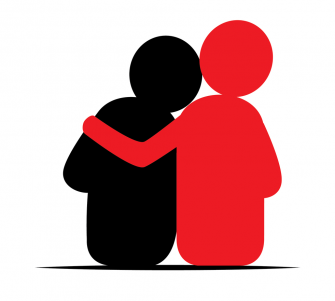 As I've gotten to know Thema Bryant-Davis, PhD through interviews for our programs, something I've come to truly admire about her work is that she emphasizes making space to grieve. As we read the news stories and think about senseless violence and unimaginable loss, so many feelings come up. Anger. Sadness. Even hatred.
But as Thema so often reminds her clients, underneath all of it is grief. And it's so important that we take time to sit with our grief – to feel it deeply and let it teach us.
It's understandable that many of us want to respond to these most recent tragedies, and quickly. At the same time, it can be easy to feel overwhelmed by a sense of "what can I do?"
Not many of us possess the power or ability to put an end to the violence and evils that plague our world and rob family members of their beloved parents, spouses, partners, siblings, or children. But there is something we all can do.
Love.
Whether that love looks like holding your family more closely, knowing that life is fragile and short, or taking action to stem the tide of violence, we each have the capacity to love more deeply. We can love the lonely teenager next door who doesn't have friends. We can love our friends who have suffered loss and who are triggered by recent events.
We can love by listening to someone on "the other side" of the issues that divide us, not with the intent of changing their minds, just with deep respect and humility about our "rightness" and their "wrongness."
We can love by reaching out to support our Asian American and Pacific Islander friends, family, and neighbors who may be especially grieving after this past year of increased harassment and violent attacks, and now a mass shooting in which six of the people killed were women of Asian descent.
We can love by doing whatever is within our power and sphere of influence to create a more compassionate, peaceful world. We begin by loving our neighbors.
So, yes. Take time to grieve, to sit with it for as long as it takes. Allow grief to teach us its lessons.
And may our grief move us to action and greater love.
Now I'd like to hear from you. What are your thoughts about how we can foster greater compassion in our communities and in our world? Please leave a comment below.
For more resources for helping clients heal from a traumatic experience, check out this blog post.