Now 50% Off for a Limited Time
50% Off – Sale Ends Tomorrow
50% Off – Sale Ends Tonight
How Polyvagal Theory Can Strengthen Your Trauma Work with Clients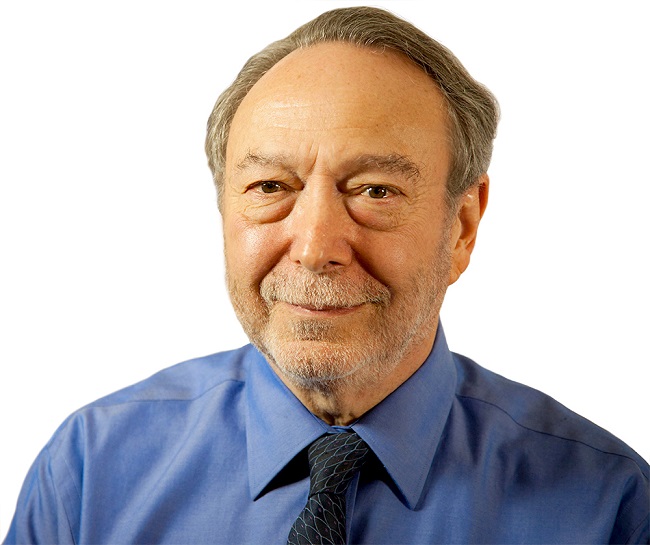 With Polyvagal Theory, you can track trauma's impact on the nervous system to reduce symptoms and speed healing.
And once you know how trauma impacts your patient's nervous system, you can adapt interventions to be faster and more effective.
That's why we're bringing you this short, focused course (at a discount) . . .
Why the Vagal System Holds the Key to the Treatment of Trauma
Stephen Porges, PhD
How Trauma Changes a Patient's Physiological Response to the World
What Makes the Human Vagus So Remarkable?
How the Nervous System Reacts to Another Person's Voice
Exploring Neuroception to Help Clients Understand Their Physiological Response to Risk
How the Vagus Affects Our Social Engagement System
The Important Physiological Component of Intuition
How Personal Narratives Originate in the Body
How Psychoeducation Paves the Way for Transforming the Brain
Why the Face Is the Portal to a Person's Internal State
Here's What You'll Get:
Everything is yours to keep forever in your professional library
| | |
| --- | --- |
| | Downloadable video and audio to watch or listen to when it's convenient for you |
| | TalkBack Segment to distill key ideas (this is where we "land" the session) |
| | Next Week in Your Practice video to give you concrete strategies to use with patients |
| | Printable QuickStart Guide to make review and action simpler than ever |
| | Professionally-formatted transcript of the session |
Stephen Porges is a distinguished scientist at the Kinsey Institute at Indiana University Bloomington and research professor in the Department of Psychiatry at the University of North Carolina at Chapel Hill.
He is a pioneer in developmental psychophysiology and his groundbreaking book, The Polyvagal Theory: Neurophysiological foundations of emotions, attachment, communication, and self-regulation has been instrumental in transforming our understanding of trauma.
Starting Today, This Program Can Change the Way You Practice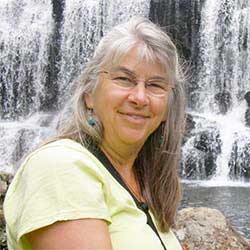 Helps clients understand this mechanism of 'shutting down' . . .
"Very helpful information. It helps me/clients understand this mechanism of 'shutting down' and their inability to see beyond the armor of defense when they feel threatened/unsafe, even when there is no apparent danger."
Lenore Bayuk, Advanced Clinical Nurse Specialist
Washington
. . . Indeed at the cutting edge of psychotherapy . . .
"Thank you for this [session] which is indeed at the cutting edge of psychotherapy. All mental health workers and well-being workers including psychotherapists and counselors need to be aware of what is emerging from neuroscience and to constantly update our knowledge."
Frances Masters, BACP Accredited Psychotherapist, Fusion Therapeutic Life Coach
London, England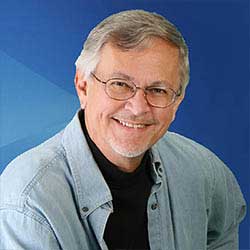 Excellent presentation of information that is destined to change how we perceive and treat ourselves . . .
"Excellent presentation of information that is destined to change how we perceive and treat ourselves. When we are aware of brain functions and how each of the 3 brains work and relate to each other, we can then be aware of what is happening at any given moment to understand and work with the response."
Johan Miller
Toledo, Ohio
You'll Get Practical Tools to Help You Quickly Integrate Stephen's Teaching into Your Work
Synthesize Key Concepts So You Can Use Them Immediately
In the TalkBack Session, Joan Borysenko, PhD and Ron Siegel, PsyD join me to dig more deeply into Stephen's teaching. Our job is to make yours easier by streamlining the information and making sure each point is crystal clear. We'll examine key ideas, clarify critical concepts, and break it all down so you can gain confidence in your understanding.
Discover Concrete Practices That Will Work in Your Life (and with Your Patients)
Then, with "next week" in mind, we'll turn smart ideas into easy-to-use solutions. In Next Week in Your Practice, I team up with Bill O'Hanlon, LMFT, and Rick Hanson, PhD, to give you specific strategies for using knowledge of the Polyvagal Theory in your work with patients. We'll show you how to translate Stephen's teaching into practices and exercises you (or your clients) can use right away.
Uncover Core Ideas and Techniques at-a-Glance So You Have a "Cheat Sheet" When You Need It Most
The QuickStart Guide will help you stay fresh and confident as you turn Stephen's insights into action. It's an at-a-glance reference to the most powerful concepts and strategies for working with patients who have experienced trauma. We've gathered all the essential tools and methods into a concise, easy-to-use guide so you can quickly review and apply these ideas when you need them most.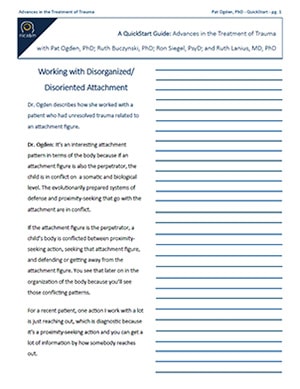 Quickly Recall Crucial Details So You Can Apply Them with Confidence
Our Professional Transcript will help you reinforce key ideas so you can integrate them into your life and work. We've designed your transcript with an easy-to-use table of contents, clear, organized formatting, and helpful highlight quotes so you'll have the information and exercises you need at your fingertips.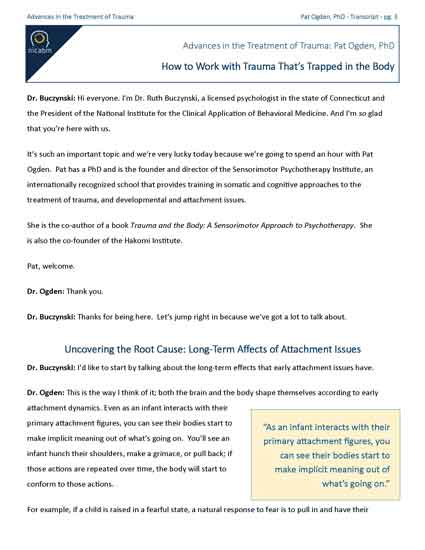 Your Colleagues Are Already Benefiting from This Training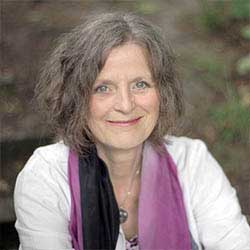 Very applicable in therapy . . . find it a very valuable tool to be aware of . . .
"As a Somatic Experiencing Practitioner, I have been so fortunate to be familiar with the Polyvagal theory of Porges. It is very applicable in therapy: I find it a very valuable tool to be aware of and address the state of the nervous system of the client . . . This time it was particularly interesting for me to hear in more detail about the inner ear, and the importance of the tone of voice . . . To honour how the client had survived or managed difficult life situations is also so important."
Lene Kripa Henriksen, SEP, Lic. Ac. Body- and Psychotherapist, Acupuncturist, Mental Health First Aid Instructor
Mid Jutland and Copenhagen, Denmark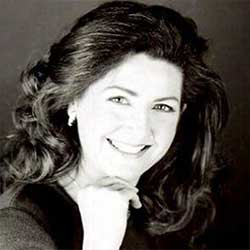 Stephen, Ruth and Ron shared very practical information . . .
"Stephen, Ruth and Ron shared very practical information . . . One of the tips I so appreciate from this is the importance of physical exercise to regulate emotional stability. I shall be encouraging one of my clients to engage in walks in nature as well as interval training. Thank you again for hosting this."
Catherine McGeachy, Management Consultant, Writer
West Limerick, Ireland
Why the Transcript Is Essential:
 Click the image to enlarge 
The transcript makes it easy to go back and double check concepts, citations and names that are mentioned
We put in a table of contents to make it easy for you to find the exact part of the webinar you need
Having the concepts already written allows you to take notes on how you're going to use the ideas rather than transcribing the ideas
Some people simply learn better by reading than by listening or watching
You will be able to print out and share techniques presented in the session with your patients

"I really liked being able to follow along with the transcripts as I listened…it was nice not to feel like I had to take notes. I really feel like I remember more when I both hear and see at the same time."
Mary Ellen McNaughton, Masters in Counseling, Psychology Counselor
Kelowna, British Colombia, Canada
You Are Protected By
NICABM's Money-Back Guarantee
We invite you to register for this comprehensive training program without any risk. Unless you are completely satisfied, we will refund your money. Just let us know within 30 days from the date of registration. We are that confident that you will find this information to be more than you expected.
Layla from Pike Road, ALJust purchased the Why the Vagal System Holds the Key to the Treatment of Trauma!4 hours ago