How to Help Clients Reclaim What's Been Lost to Trauma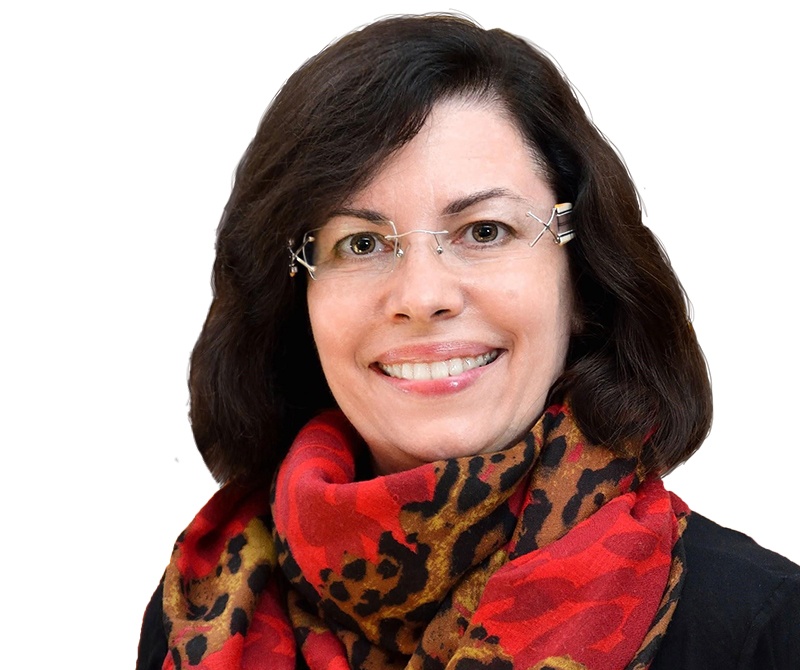 In the moment of trauma, both brain and body quickly adapt to help us survive the event.
But later, these adaptations can sometimes do more harm than good.
For instance, the nervous system may get stuck and shut down or go into overdrive without a client's awareness or conscious choice.
To help clients take back control of their brain and body, we've got to be able to teach them how to calm their nervous system.
In this short course, Ruth Lanius, MD, PhD will give you specific interventions to help your clients recover what's been lost.
How to Work with the Impact of PTSD on the Brain and Body
with Ruth Lanius MD, PhD
How to Help Clients Emerge from Shutdown So They Can Feel a Wide Range of Emotions
An Approach to Help Trauma Survivors Shift from a Fragmented to a Coherent, Integrated Sense of Self
The Four Dimensions of Dissociation and How It Impacts Our Treatments
How to Adapt a Body Scan for a Traumatized Client to Uncover What's Going On in the Body
The Neurobiology of the Shutdown Response (and How It's Different from the Freeze Response)
How to Help Traumatized Patients with Alexithymia (the Inability to Put Their Feelings into Words) Express Their True Emotions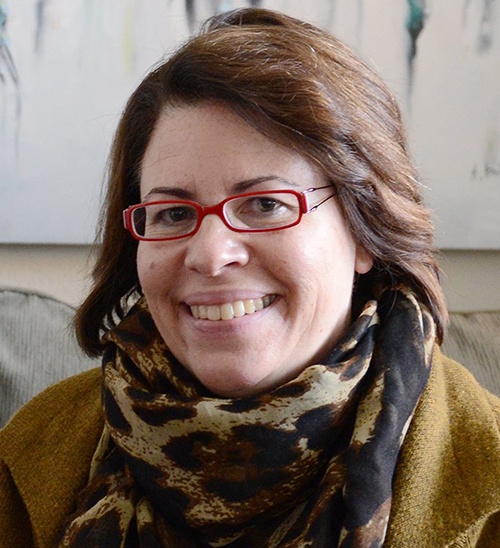 Ruth Lanius, MD, PhD, Professor of Psychiatry is the director of the Post-traumatic Stress Disorder (PTSD) research unit at the University of Western Ontario. She established the Traumatic Stress Service and the Traumatic Stress Service Workplace Program, services that specialize in the treatment and research of Post-traumatic Stress Disorder (PTSD) and related comorbid disorders. She is also coauthor of the books The Impact of Early Life Trauma on Health and Disease: The Hidden Epidemic and Healing the Traumatized Self: Consciousness, Neuroscience, Treatment.
Here's What You'll Get:
Everything is yours to keep forever in your professional library
| | |
| --- | --- |
| | Downloadable video and audio so you can watch or listen whenever it's convenient |
| | TalkBack Segment to distill key ideas (this is where we "land" the session) |
| | Next Week in Your Practice video to give you concrete strategies to use with patients |
| | Printable QuickStart Guide to make review and action simpler than ever |
| | Professionally-formatted transcript of the session |
By working with the impact of trauma in the brain and body, we can help clients regulate their nervous system so they can feel safe.
This Program Can Change the Way You Practice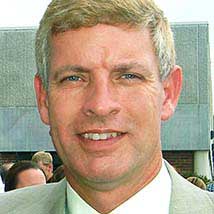 . . . the best in research and applications . . .
"Thank you for bringing forward the best in research and applications to practice! I teach doctors and so much of this needs to inform how we treat our patients and how we take care of ourselves. A lot has moved forward, but there is so much more to do. Your encouragement and the online community is so motivating."
Patrick Goff, EdD, Licensed Psychologist/Educator
Roseau, Commonwealth of Dominica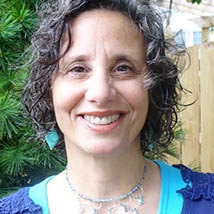 . . . some dare to go the extra journey to research and educate
"These NICABM series keep me afloat, in touch, on track, well trained in my field, and more personally healthy. The best aspect, though, is that I feel validated and comforted knowing that some dare to go the extra journey to research and educate, so I can walk the path to health, and can share with others."
Mary Corsello-Vilcheck, LCSW
Midlothian, VA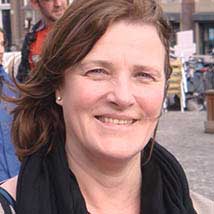 I could see how each example could be applied to my work without any difficulty.
"[NICABM's] information was delivered in such an accessible and well-paced manner that it left me feeling really enthused about using it. I could see how each example could be applied to my work without any difficulty."
Helen MacWhite, Counseling/Psychotherapy
Dublin, Ireland
You'll Get Practical Tools to Help You Quickly Integrate Bessel's Teaching into Your Work
Synthesize Key Concepts So You Can Use Them Immediately
In the TalkBack Session, Ron Siegel, PsyD and Ruth Lanius, MD, PhD join me to dig more deeply into the key ideas. Our job is to make yours easier by streamlining the information and making sure each point is crystal clear. We'll clarify critical concepts and break it all down so you can gain confidence in your understanding.
Discover Concrete Practices That Will Work in Your Life (and with Your Patients)
Then, with "next week" in mind, we'll turn smart ideas into easy-to-use solutions. In Next Week in Your Practice, Bill O'Hanlon, LMFT and Rick Hanson, PhD join me to give you specific strategies for helping people who have experienced developmental trauma self regulate. We'll show you how to translate Peter's teaching into practices and exercises that you (or your clients) can use right away.
Uncover Core Ideas and Techniques at-a-Glance So You Have a "Cheat Sheet" When You Need It Most
The QuickStart Guide will help you stay fresh and confident as you turn Peter's insights into action. It's an at-a-glance reference to the most powerful concepts and strategies for working with patients who have experienced trauma. We've gathered all the essential tools and methods into a concise, easy-to-use guide so you can quickly review and apply these ideas when you need them most.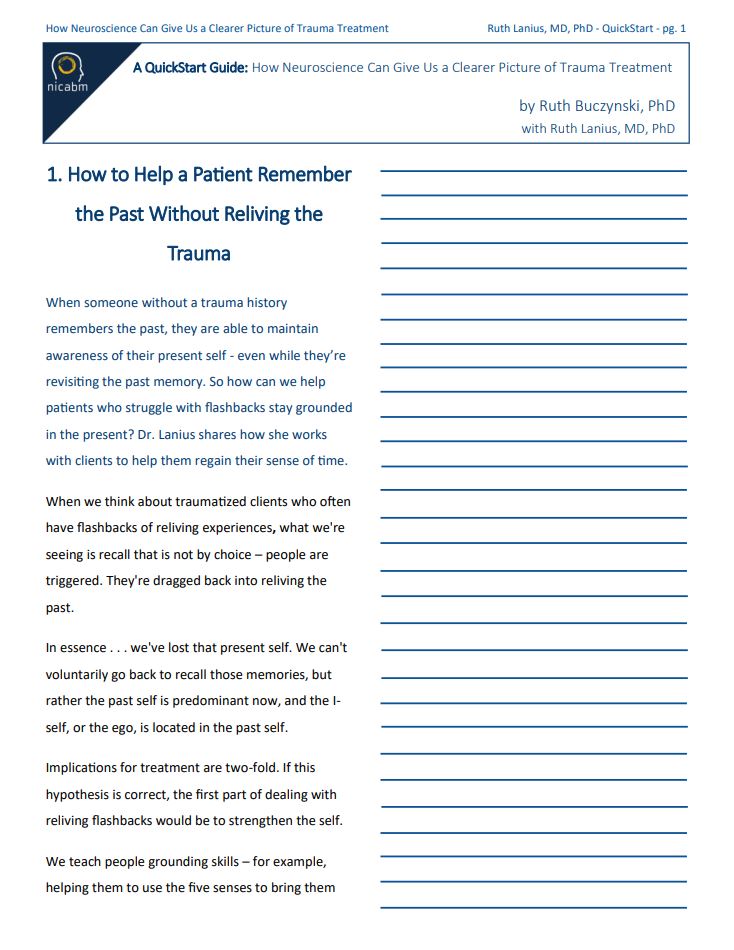 Quickly Recall Crucial Details So You Can Apply Them with Confidence
Our Professional Transcript will help you reinforce key ideas so you can integrate them into your life and work. We've designed your transcript with an easy-to-use table of contents, clear, organized formatting, and helpful highlight quotes so you'll have the information and exercises you need at your fingertips.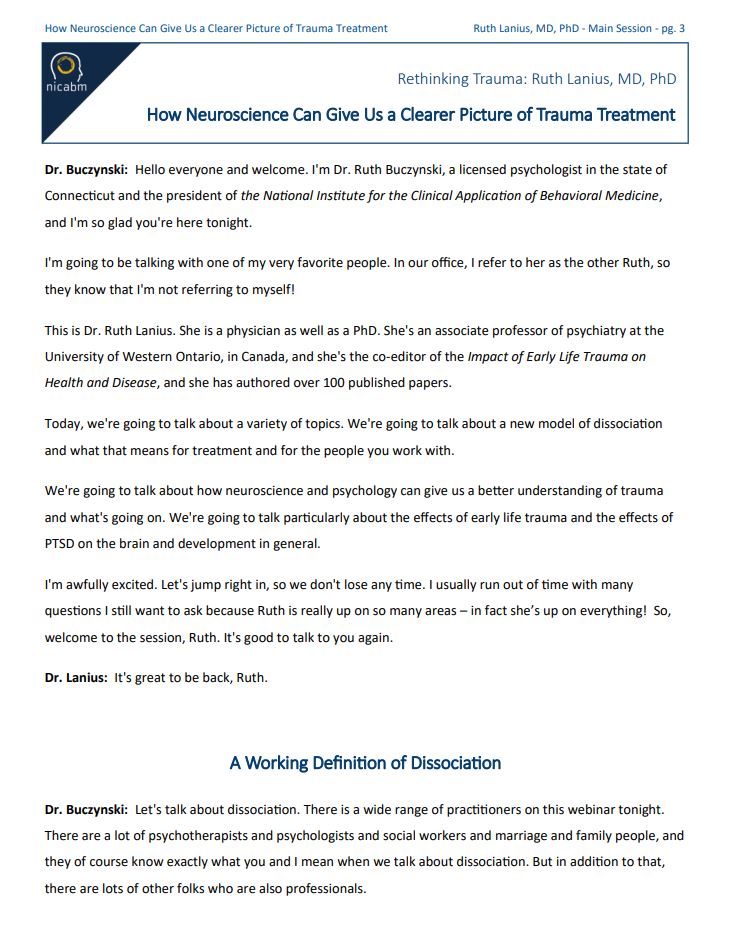 Why the Transcript Is Essential:
 Click the image to enlarge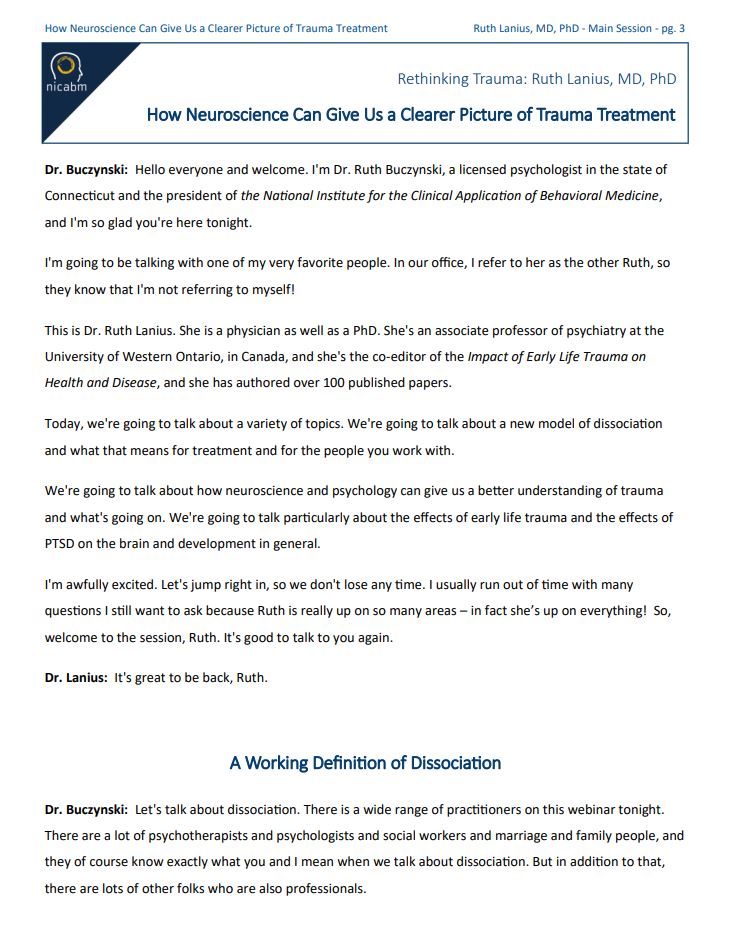 The transcript makes it easy to go back and double check concepts, citations and names that are mentioned
We put in a table of contents to make it easy for you to find the exact part of the webinar you need
Having the concepts already written allows you to take notes on how you're going to use the ideas rather than transcribing the ideas
Some people simply learn better by reading than by listening or watching
You will be able to print out and share techniques presented in the session with your patients
"I really liked being able to follow along with the transcripts as I listened…it was nice not to feel like I had to take notes. I really feel like I remember more when I both hear and see at the same time."
Mary Ellen McNaughton, Masters in Counseling, Psychology Counselor
Kelowna, British Colombia, Canada
You Are Protected By
NICABM's Money-Back Guarantee
We invite you to register for this comprehensive training program without any risk. Unless you are completely satisfied, we will refund your money. Just let us know within 30 days from the date of registration. We are that confident that you will find this information to be more than you expected.