Now 50% Off for a Limited Time
50% Off – Sale Ends Tomorrow
50% Off – Sale Ends Tonight
How to Apply Mindfulness to Your Clinical Work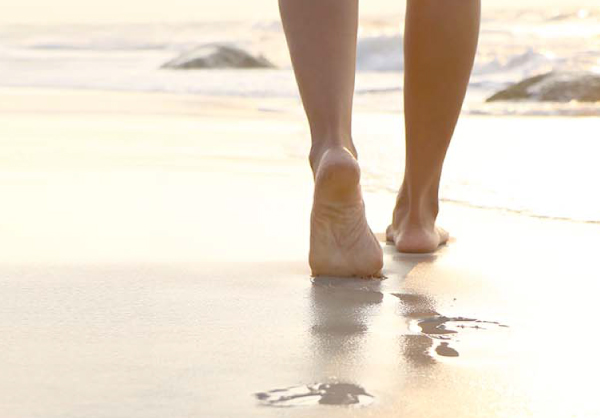 Mindfulness works.
It can help clients reduce stress, optimize learning, and improve their relationships.
Not only that, research shows that mindfulness changes the brain.
But knowing what mindfulness can do, and helping clients actually put it into practice often requires skill.
Mindfulness practice is simple but it isn't always easy.
So we designed a program with this idea firmly in mind – and to give you expert perspectives and practical applications for working more adeptly with mindfulness . . .
. . . in nearly every clinical circumstance, no matter what objectives you're working toward.
How to Apply Mindfulness to Your Clinical Work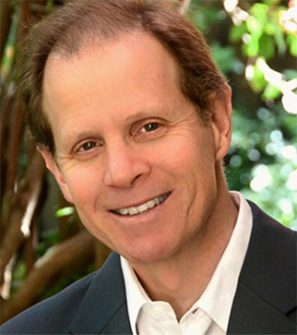 How Mindfulness May Change Both the Brain and the Body
Daniel Siegel, MD
Mindfulness and DNA: What Recent Research Says About the Potential Effect of Mindfulness on Chromosomes
What It Means to Be Present and How It Creates Better Health and Happiness
How to Turn a Mindful State Into a Mindful Trait
Why What You Do With Your Mind May Change the Structure of Your Brain
How Mindfulness Can Help Integrate the Brain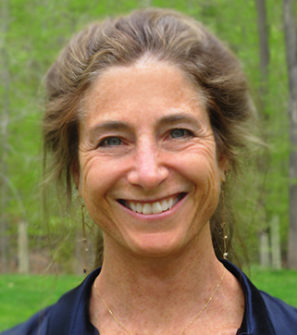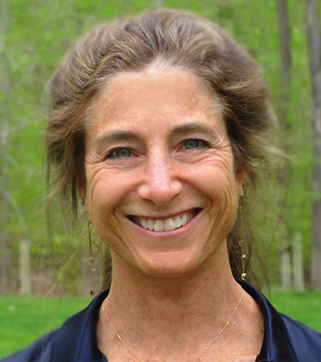 Mindfulness and the Gateways to Refuge: Finding the True Self
Tara Brach, PhD
One Key Intervention That Practitioners Can Use to Help Clients Embody a Sense of Personal Authenticity
How Mindfulness Can Help Us Minimize Reactivity
Why False Refuges Look so Enticing
Four Subtle False Refuges That Are Difficult to Recognize
How to Find the Aliveness and Tenderness That Is in the Present Moment
How the Sacred Art of Pausing Can Help Clients Break Unhealthy Patterns
The Importance of Recognizing That Beliefs Are Real but Not True
Why Mindfulness Is the Best Strategy for Coming Back to Wholeness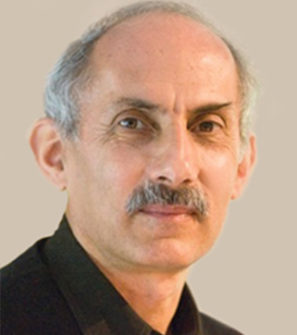 How to Grow Love and Compassion Out of Suffering
Jack Kornfield, PhD
How Mindfulness Training Transforms Brokenness
Why Over-Identifying with a Role Can Cause Tremendous Suffering
How to Use Mindfulness and Loving Awareness to Become Free of the Past
Thinking "Skillfully": How to Apply Mindfulness to Solve Conflict
Strategies for Overcoming Feelings of Unworthiness, Shame, and Guilt
Why Bringing the Quality of "Beginner's Mind" May Help You Improve Clinical Outcomes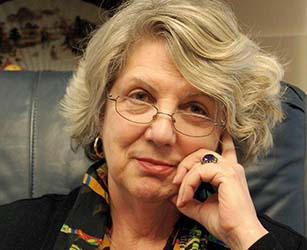 Dialectical Behavior Therapy – A New Approach to Treating Distressing Emotions
Marsha Linehan, PhD
Mindfulness Practices to Help Your Clients Tolerate Distress and Difficult Moments
The Three Essential Skills of Dialectical Behavior Therapy
Why Focusing on Change Can Be Ineffective in Treating Borderline Personality Disorder
Why Dialectical Behavior Therapy Is So Effective in Combating Thoughts of Suicide
Dialectical Behavior Therapy and Obesity – Treating the Behavior, Not the Biology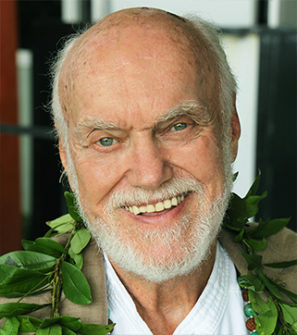 How to Help People Connect to Loving Awareness: Expanding Our Capacity to Give and Receive Unconditional Love
Ram Dass, PhD
Why It Is so Difficult to Give and Receive Unconditional Love
How Mindfulness Can Allow Us to Disassociate From "Roles" and Improve Healing
Why Health Problems Can Sharpen Attunement
How to Love Even the People You Dislike
How to Help Patients Overcome the Fear of Growing Old
Why Mindful Living Prepares Us for Dying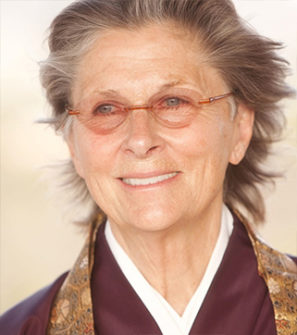 Deconstructing Death: How Mindfulness Can Help People Manage Life's Ultimate Transition
Joan Halifax, PhD
GRACE – Five Steps to Cultivate Compassion When Your Attention Is Divided
Why Practitioners Need to Regulate Their Own Response to Suffering in Order to Help Their Patients
An Exercise in Becoming Grounded: How to Prime Attention, Equanimity, and Strength
Healing Fictions: What They Are and How They Structure Lives and Affect Treatment
The Art of Sitting With Not Knowing
How to Look Past Our Biases to Serve With Openness
Get valuable techniques from leaders in the field without the expense and hassle of travel
Client inmates report very positive effects . . .
"I have used these teachings to reinforce my ability to communicate the value and practice of mindfulness to my clients in a county jail setting. Client inmates report very positive effects, as it is an introduction to self discipline and intentional self care for many of them. A little mindfulness can go a very long way on the way toward healing and recovery from trauma and addictive behaviors."
Albert W. Laser, MA Counseling, LCP - Mental Health Specialist
Chicago, Illinois
. . . current, scientific, and cutting edge . . .
"Every time I attend one of your webinars I am blown away by not only the depth of information – current, scientific, and cutting edge – but also the way you always integrate the practicality and usefulness of each presenter's theories and work."
Erica Goodstone, PhD, Licensed Mental Health Counselor and Somatic Body Psychotherapist
Deerfield Beach, Florida
Thanks for another wonderful interview . . .
"I love when research and science supports and encourages what we already know! Thanks for another wonderful interview."
Nancy Rhine, MS, LMFT
Mill Valley, California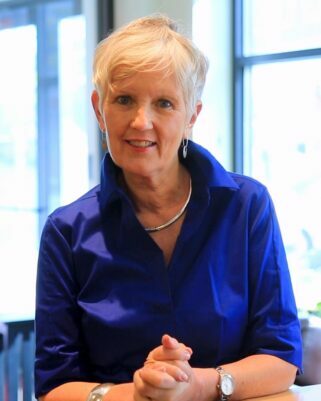 Course Director
Ruth Buczynski, PhD
Dr. Ruth Buczynski is a licensed psychologist and founder and president of The National Institute for the Clinical Application of Behavioral Medicine (NICABM). NICABM helps physicians, nurses, psychologists, social workers, and counselors – practitioners who have some of the most significant and life-changing missions on the planet – provide cutting-edge, research-based treatment strategies to their patients. For more than 35 years, NICABM has offered accredited training and professional development programs to thousands of practitioners worldwide.
4 innovative learning tools to help you take action immediately and effectively
Synthesize Key Concepts So You Can Use Them Immediately
After every session, Ron Siegel, PsyD, and Joan Borysenko, PhD, will join me in the TalkBack segment to clarify what you've just heard. Our job is to make yours easier. We'll dig deeper into core concepts, so you can integrate ideas and practices from each session and connect them with your work.
Discover Concrete Practices That Will Work in Your Life (and with Your Patients)
All the teaching in the world won't mean much unless you actually use it. In Next Week in Your Practice, we'll give you concise videos where I'll work with Christopher Germer, PhD and Elisha Goldstein, PhD, to translate ideas from each session into techniques and exercises you can use with your clients right away.
Uncover Core Ideas and Techniques at-a-Glance So You Have a "Cheat Sheet" When You Need It Most
We'll help you turn each expert session into an action plan. The QuickStart Guide lays out key concepts plus specific exercises and strategies in a concise, handy-to-use format. At your fingertips, you'll have highlights, techniques, and tools from each session so you can quickly review and apply what you've learned.
 Click the image to enlarge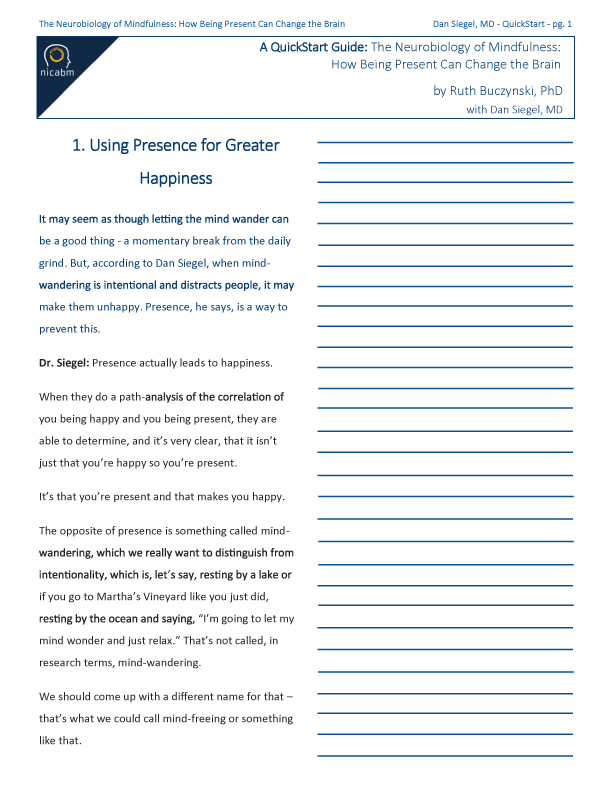 Quickly Recall Crucial Details So You Can Apply Them with Confidence
Professional Transcript will help you move beyond merely watching each session to make key ideas a part of your work. With an easy-to-use table of contents, clean, professional formatting, and helpful quotes that call out core concepts, you can quickly locate important ideas and check citations and references. We craft these with care to make quick review surprisingly simple.
 Click the image to enlarge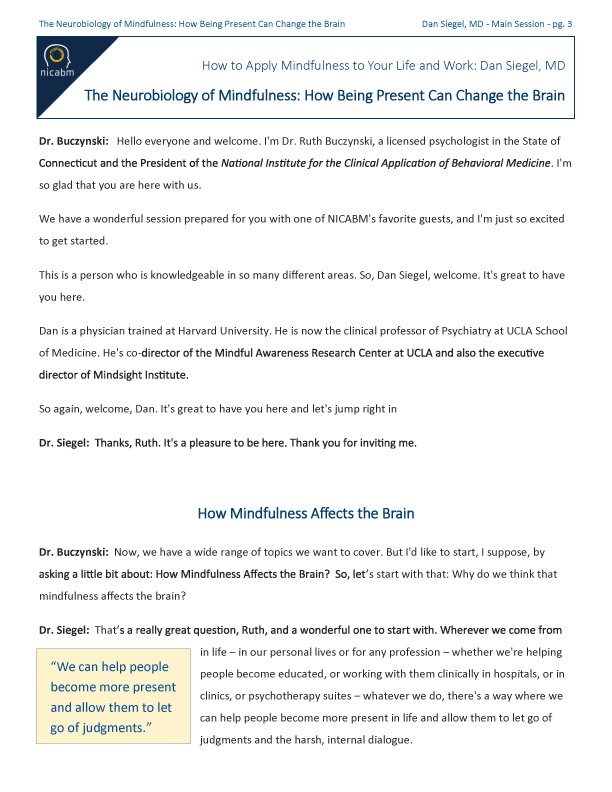 With these innovations, you'll be more prepared than ever to make mindfulness an indispensable part of your practice.
Get high quality trainings without having to travel and put your life and work on hold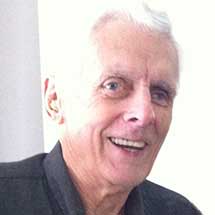 . . . remarkable clarity and a good foundation for opportunities for future treatments.
"Dynamite presentation with remarkable clarity and a good foundation for opportunities for future treatments."
Curt Niederee, MD
Weston, Montana
Your generosity in providing these wonderful lectures is amazing . . .
"Thank you Ruth! Your generosity in providing these wonderful lectures is amazing. Your perspicacity and intuition that shines through your interviews is a joy."
Linda Midalia, Psychologist
Australia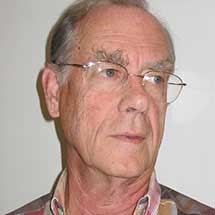 I am eager to hear the other presentations on mindfulness . . .
"I have just today tried to introduce mindfulness to a young patient with panic disorder and found that the explanation of developing 'awareness training', which can serve as a first line of responding when the panic threatens, was a good opening introduction. I am eager to hear the other presentations on mindfulness."
Doug Frey, Psychology
Gaithersburg, MD
Here's What You'll Get:
Everything is yours to keep forever in your professional library
| | |
| --- | --- |
| | Downloadable video and audio to watch or listen to when it's convenient for you |
| | TalkBack Segment to distill key ideas (this is where we "land" the session) |
| | Next Week in Your Practice video to give you concrete strategies to use with patients |
| | Printable QuickStart Guide to make review and action simpler than ever |
| | Professionally-formatted transcript of the session |
| | 4 Bonus sessions to deepen your understanding of your patient's brain |
| | Audios and transcripts of the bonus sessions |
You'll Also Get These Two Special Bonus Sessions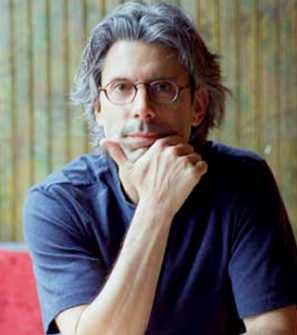 Meditation and Psychotherapy: A Dual Approach that Can Speed Healing
Mark Epstein, MD
Why "Being Good" at Meditation Doesn't Always Solve Underlying Emotional Problems
Why Meditation is Like Juggling and Can Help Us See Where We Are Clinging
Learning to be Detached but Not Disinterested: How to Deal With Intense Feelings
How Relational Therapy Can Broaden the Scope of Mindfulness Practice
How Mindfulness Can Help Us Realize That We Are Not Limited by Our Suffering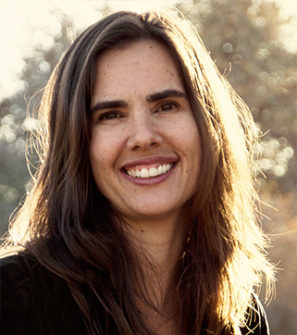 How to Practice Kindness Toward Ourselves: Mindfulness and the Science of Self-Compassion
Kristin Neff, PhD
Which is Healthier – Self-Esteem or Self-Compassion?
The Self-Compassion Break: A Take-Home Tool for Using Mindfulness to Cultivate Compassion and Deal With Difficulties
How Mindfulness Helps Us Relate to Negative Thoughts in a Compassionate Way
The Link Between Self-Compassion and Reduced Depression
Mindfulness Interventions That Can Help Increase Self-Compassion
How Mindfulness Can Improve Relationships by Increasing Our Self-Compassion
The Link Between Self-Compassion and Well-Being
Why the Transcript Is Essential:
 Click the image to enlarge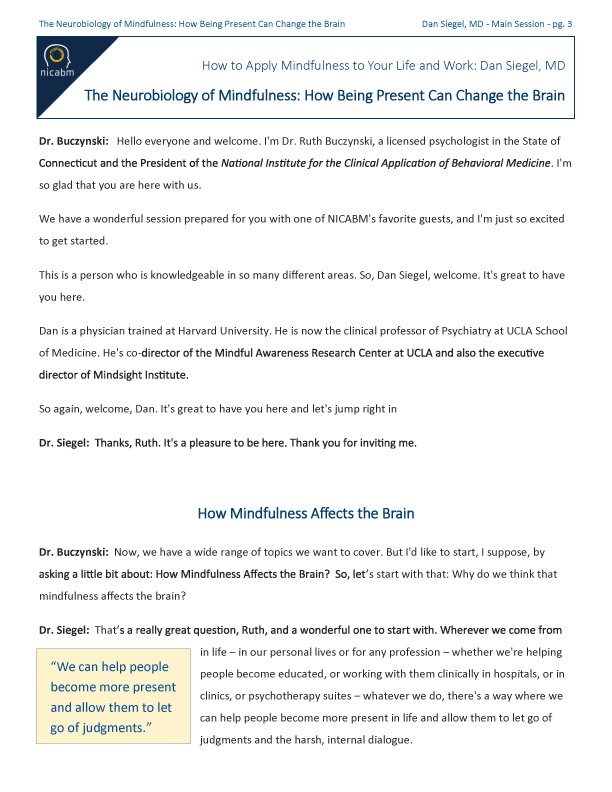 The transcript makes it easy to go back and double check concepts, citations and names that are mentioned
We put in a table of contents to make it easy for you to find the exact part of the webinar you need
Having the concepts already written allows you to take notes on how you're going to use the ideas rather than transcribing the ideas
Some people simply learn better by reading than by listening or watching
You will be able to print out and share techniques presented in the session with your patients
"I really liked being able to follow along with the transcripts as I listened…it was nice not to feel like I had to take notes. I really feel like I remember more when I both hear and see at the same time."
Mary Ellen McNaughton, Masters in Counseling, Psychology Counselor
Kelowna, British Colombia, Canada
These Teachers Know How to Dig In and Turn Complex Principles into Simple, Flexible Applications
They'll share how they integrated mindfulness into their work to help clients change their lives in ways they never expected – and how you can do the same.
While many of us have heard about how mindfulness meditation can help with a wide array of clinical issues, it can be a struggle to know how to move from concept to practice with our patients.
With this program, you'll get the tools you need to make mindfulness a simple, effective, and practical intervention for both you and your patients.
I believe that consistent, effective healing practice can change lives – and change the course of our communities . . .
And because of this, I am never satisfied by the status quo but am passionate about finding the most effective and innovative approaches for getting deeper and more rapid ways to reduce suffering and enrich people's lives.
We Search Out the Most Creative Practitioners Who Have Developed Extraordinary Methods for Getting Results
It doesn't matter if they are well known or totally unknown. What matters is that they have an exceptional approach that is a cut above the rest.
And when we find them, we hone in on exactly what it is they are doing that makes such a remarkable difference so that we can teach other practitioners how to get the same results with their patients.
If you are the kind of practitioner who also has a burning desire to find the best ways to help people change, who will go way beyond expectations to be the best that you can possibly be, come join us as we identify what it is that makes these innovative thinkers so successful in their work.
You Are Protected By
NICABM's Money-Back Guarantee
We invite you to register for this comprehensive training program without any risk. Unless you are completely satisfied, we will refund your money. Just let us know within 30 days from the date of registration. We are that confident that you will find this information to be more than you expected.
Layla from Pike Road, ALJust purchased the How to Apply Mindfulness to Your Clinical Work!4 hours ago