Usha Tummala-Narra, PhD

Usha Tummala-Narra, PhD, is a clinical psychologist, Associate Professor at Boston College, and a leading researcher in areas of cultural competence and cultural humility.

She specializes in areas of immigration, race, gender, and interpersonal and collective trauma. Her culturally informed psychoanalytic approach to therapy helps clients process the trauma of racism, build self-confidence, and develop resilience.

Usha is also an author of several articles on the treatment of trauma and working with racial stress, and she serves as an Associate Editor of the Asian American Journal of Psychology and Psychoanalytic Dialogues.
Check out a course with Usha and several other experts on treating trauma here:
The Advanced Master Program on the Treatment of Trauma
12 CE/CME Credits Available
You can learn more about how Usha Tummala-Narra, PhD, works with trauma here: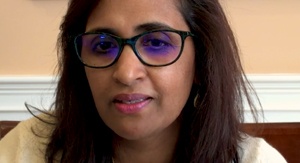 What We Might Be Missing – Listening for Racial Stress in Session
There may be times when a client comes . . .