Is it possible that one change could improve almost any client's relationship?
Relationships are a huge part of our happiness. They can bring up some of the most wonderful feelings . . .
. . . and they can stir up some of the most painful ones as well.
Yet there's one key thing - a key difference maker – that can change a relationship from being draining and negative, to loving and supportive.
But first, let's consider . . .
What makes relationships so hard in the first place?
It often starts when we feel slighted, misunderstood, or disrespected in some way.
We react in self-defense. We might lash out and speak words we later wish we could "unsay." Or we withdraw in hurt to rehearse the reasons why we're right. And some of us simply shut down altogether.
The thing is, none of these defenses actually serves us well. Not one of them brings us closer to having the warm, healthy relationships we want.
Instead, we get caught up in a pattern where one hair-trigger reaction only feeds another. As practitioners, we often refer to this as a reactivity loop.
Now if you've ever worked with someone trying to stop this reactivity loop, then you know just how deeply entrenched it can be. Willpower and good intentions alone just aren't enough.
The best efforts often fail, and there's a good reason why: we're fighting neurobiology.
I know you know this, but just for review: What happens when we feel threatened is that the part of the brain that controls emotion takes over. That shuts down the prefrontal cortex. Now, in a life-or-death situation, this autopilot override is what keeps us alive.
But here's the problem – when this shutdown happens for your client in the middle of a disagreement with their spouse or a heated negotiation with their teenager . . .
. . . the results can be disastrous.
This really isn't the time you want your thinking brain to sign off while your emotional brain takes over.
But that's only half the problem - so often in relationship struggles, there's something even deeper going on.
Not only is the conflict coming from outside, it also comes from within. When our self-critical inner voice won't be stilled, we can feel insecure, as though we're just not good enough.
If you work with clients, you've probably seen this countless times.
And if we're honest, most of us know first-hand how toxic insecurity and self-doubt can be to relationships.
But as we know from the latest research in brain science, once a belief gets hardwired, it becomes very difficult to reset.
So here's the good news . . .
Research is also showing there's one practice that's particularly effective at retraining the brain so that we're wired for positive, happy relationships . . .
. . . and that practice is mindfulness.
Thousands of studies over the last 20 years have shown that mindfulness can positively impact relationships and happiness. It can even change the structure of the brain.
Just 15 minutes of mindfulness practice a day can begin to unlock the barriers that keep people from connecting on a meaningful level.
Mindfulness can help us overcome feelings of insecurity so that we grow more open to love, trust, and intimacy.
This is not just about remembering to pause, take a deep breath, and count to ten in the heat of the moment. This is a way to rewire the brain and get beyond unhelpful "defenses" - you know, those walls we put up that don't protect us anyway.
Mindfulness can help us drop the barriers built up over years of hurt, pain, and suffering. It can free us up from self-doubt and judgment so we can grow in self-compassion and acceptance.
So for just a moment, think about the impact this shift could have for your clients on their most cherished relationships . . .
Imagine your clients waking up every day feeling more alive, connected, and secure - without fear or worry about being anyone but their most authentic selves.
Picture the tense silence of a recurring disagreement with a partner giving way to open, honest, productive conversation.
Imagine the shouting sessions your client used to have with his teenage son replaced by evenings of board games and laughing.
Think about how it would feel for your client to see her grandchildren at a family reunion and hear her daughter say, "Thanks for not giving up on me when times were tough."
Or what it would be like for your client to overhear her mother-in-law tell a friend how grateful she is to have her as part of her family.
Can you envision your client happy in their significant relationships, secure in the knowledge that both parties feel heard, understood, and appreciated?
Relationships can change.
That's why we've created a program specially designed to overcome the insecurity, self-criticism, and judgment that block meaningful relationships.
And in this innovative program Tara Brach, PhD will be your guide. Tara is a psychologist, but not only that, she's one of the world's most beloved mindfulness teachers.
As the author of Radical Acceptance and also True Refuge, she's already helped thousands of people transform their relationships - and their lives - with mindfulness.
In this interactive program, Tara will guide you to a deeper experience with your most loving, compassionate, authentic self.
She'll share practices that can open your heart to a greater level of empathy and self-acceptance.
Her wisdom coupled with specific meditations will help you hold yourself, your loved ones, your clients, and really, the whole world in greater compassion.
These are the essential steps for reversing the negative patterns that prevent us from enjoying warm, spontaneous, and loving relationships. . .
. . . the kind in which both people feel seen, known, and understood.
Below, we've laid out everything Tara will cover throughout this journey. You can see the skills you'll be developing in every module.
Here's what you'll get in each weekly module:
Week 1
Awaken Intimacy and Expand Our Capacity for Love
The Transformative Power of "Pausing"
Discovering Where Intimacy Starts: How to Truly Connect
Why Loving Connection Is Essential for Health and Well-Being
Developing Our Capacity to Love: How to Strengthen Compassion and Find Acceptance
Week 2
Mindfully Rewire the Brain for More Loving Relationships
Rewiring the Brain through Mindfulness and
Self-Compassion
Real World Aspirations: How to Apply Mindfulness and Compassion to Deepen Attention and Improve Relationships
Smile Down: An Easy Meditation to Gently Bring You Back into Your Body
Developing Trust: A Guided Practice for Identifying the Traps That Keep Us Separate from Each Other
Week 3
Freeing Ourselves from the "Control" Strategies That Harm Our Relationships
Sensing the Inner Experience: Why We Develop "Control" Strategies (and How to Recognize When We're Doing It)
A Mindfulness Must: 2 Key Ingredients for Mindfulness that Everyone Needs to Know
Getting in Touch with the Parts of Ourselves That We Hide from Others
Grasping for Approval: How Mindfulness Can Free Us and Help Us Stay More Authentic
Strategies for Dealing with Unmet Needs: How Mindfulness Can Help You Turn the Tables on Harmful Relationship Patterns
Getting "Unstuck": How to Use Mindfulness to Break Free of Chain-Reaction Thinking
Breaking Down Barriers: A Simple Meditation to Open Up Deeper Understanding and Love in Our Relationships
Mindfulness in Real Life: The "I Consent" Meditation Practice
Week 4
Deepening Our Attention to Explore Who We Are
Investigating Self-Compassion and Fullness of Presence
Being Fully Present
Who Are You: Discovering Your True Sense of Self
Growing in Compassion
Week 5
Letting Go of Blame, Pain, and Resentment
Bridging the Gaps between Us: How Anger, Forgiveness, and Boundaries Work Together in Strong Relationships
Uncovering the Hidden Emotional Blocks That Can Fuel Blame and Resentment
The Transformative Impact of Letting Go
Experiencing the Power of Forgiveness
Freeing the Heart of Blame and Resentment: A Forgiveness Meditation
Week 6
Cultivating a Deeper Love: How to Open Your Heart to See the Goodness
The Forgiveness Process: Embracing the Stages
of Forgiving Others and Ourselves
Tonglen: A Meditation to Encourage More Openness and Greater Compassion
How Changing Our Words Can Transform Our Hearts
An Exercise in Compassion: Seeing Goodness and Offering Blessing
Bringing Awareness to the Body and Love to Our Hearts
The Terrifying Power of Unleashed Joy
Register here for only three payments of $166
15 CE/CME Credits are available for purchase at checkout.
---
Featuring Tara Brach, PhD, one of the leading mindfulness teachers in the US, founder of the Insight Meditation Community of Washington, and author of Radical Acceptance and True Refuge.
Tara will guide you on a journey to become more in touch with your most authentic self and tune in to your highest intentions.
---
Here's how it will work:
Tara will walk you through a carefully-crafted program of teachings on your path to more meaningful, connected relationships.
After every lesson from Tara, you'll have time to try out the ideas and strategies in your life and work.
You can immediately begin to practice the key concepts and life-changing meditations that Tara will guide you through, and experience for yourself the powerful potential of mindfulness in your relationships every day.
You'll get to enhance your experience through the Mindful Learning Community - this give-and-take with like-minded fellow students will enrich your personal experience as you exchange insights from Tara's teachings and support each other on this life-changing journey.
After hearing their insights and sharing yours, you'll be able to revisit Tara's lessons as often as you'd like to fully mine the depths of her generous wisdom and experience.
As you build on concepts and practices each week, Tara will help you dive more deeply into the powerful practice of mindfulness, giving you the necessary tools and steady support each step of the way.
You'll get life-changing teachings from one of the world's most respected mindfulness teachers . . . without having to travel and put your life on hold
". . . a growing effective practice being explored by many clients."
"Tara's insights have reinforced the personal and professional work I am doing with mindfulness. It has made an enormous difference in managing big emotions, in dealing with longing, and in embracing so much more of each day as I learn to be truly present. And it is a growing effective practice being explored by many clients."
Claudia Crawford, MFT
Santa Barbara, CA
". . . I use it in my work with clients."
"Mindfulness and compassion have helped me a lot in my own life and I use it in my work with clients. I just love the ideas of Tara Brach and how she brings it to the world. So pure and calm. If there is one who lives it, she is it."
Guusta Zuurbier, Psychologist
Olst, Netherlands
"Tara has the ability to delve deep . . . into those murky places that we often prefer to avoid."
"Tara is such a moving speaker on mindfulness. I find the art of it allows a certain distance from the angst of life, thus enabling a sense of freedom and a release from the chains of obligations. Tara has the ability to delve deep into our souls, into those murky places that we often prefer to avoid ... and she does this so softly, so quietly and with a simplicity which I perceive as humility. I am very much looking forward to Tara's future gifts for they are exactly that, gifts of the heart and received by the heart. Thank you."
Iris Liebner, Psychotherapy
Toronto, Canada
"I use these ideas personally and professionally, . . ."
"I have followed Tara's work for a long time now. Awesome stuff and what a contribution to the world she has made. Thank you. Excellent way to introduce the ideas of mindfulness and compassion. I use these ideas personally and professionally, and look forward to continued learning."
Vicki Hutman, Psychologist, NCC, LPC, LCPC
Ashburn, VA
What makes this program right for YOU?
We've talked with plenty of people who want to make mindfulness part of their lives, or something they can use with clients.
But for many people, there's a huge gap between knowledge and practice. They understand the principles and theories, but are looking for someone who can offer interactive "hands-on" practice.
That's one reason this program is so valuable. Tara will not only equip you with key teachings about mindfulness . . .
. . . she'll also walk you through practical, life-changing mindfulness exercises.
Whether you're an expert in mindfulness or this is something you're exploring for the first time . . .
. . . These rich lessons will help you begin to experience the transforming power of mindfulness practice. Tara will guide you through meditation exercises, so if you've never meditated before, you'll be amazed at how simple and effective it is.
And if you're an experienced student of mindfulness, you'll find that your toolkit expandswith the lessons in this course. You'll go deeper into the questions that matter most.
Become part of a community . . .
When you join the thousands of other practitioners taking this program, you aren't just getting hours of hands-on mindfulness training.
You're joining a community of learners. On our Mindful Learning Community message boards, you'll be able to share your experiences, get expert input, and hear how others have tackled the same problems you're facing.
There's a lot to learn in this program - but you won't be doing it alone.
Register here for only three payments of $166
15 CE/CME Credits are available for purchase at checkout.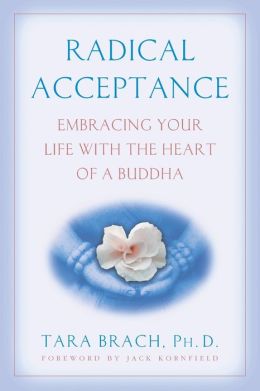 Learn from a world-renowned teacher who has helped thousands transform their lives
Tara Brach, PhD has been practicing and teaching meditation for over 35 years. She is a leading teacher of Buddhist meditation, emotional healing and spiritual awakening. Tara's teachings blend psychology, mindful attention, and a compassionate engagement with our world.
Tara is the senior teacher and founder of the Insight Meditation Community of Washington, DC, a spiritual community teaching and practicing Insight/Vipassana meditation. It is one of the largest and most dynamic non-residential meditation centers in the United States.
Tara is the author of Radical Acceptance and True Refuge: Finding Peace & Freedom in Your Own Awakened Heart.
This program gives you valuable wisdom and practices from a prominent and widely respected leader in mindfulness training while saving you the expense and hassle of travel
" . . . research to back our experience as therapists and meditators!"
"I enjoy all of NICABM's work because it substantiates and distributes the research many of us meditators/students have already noticed to be true in our work, meditations, and life. Joy is really a constant, even during difficulty. Thank you, NICABM, for putting research to back our experience as therapists and meditators!"
Carolyn Eberle, LPC
Boulder, CO
"In my work as a therapist I am constantly including exercises to help create this broader perspective . . ."
"I think this insight is most profound - not that it is new to me but just . . . a wonderful reminder to stay present, stay with the breath and to use whatever strategy is available to me to help remember. In my work as a therapist I am constantly including exercises to help create this broader perspective of who we are. Thank you."
Susan Moon, LMFT
San Francisco, CA
"Tara's compassionate words and presence are an inspiration and help me, and others, . . . "
"Tara's compassionate words and presence are an inspiration and help me, and others, step out of the trance of unworthiness that so often comes up when strong emotions are triggered. Remembering to pause and see others through the eyes of wisdom and compassion helps change the cycle of blame, resentment and suffering. Thank you for your teachings, Tara."
Robin Feldman, Art Therapist
Victoria, BC, Canada
"Her teachings have truly helped me to transform my life . . . "
"I've been listening to Tara Brach's dharma talks for years now. Her teachings have truly helped me to transform my life from pain and misery to meaning and beauty."
Robin Day, Entrepreneur
Marietta, GA
Here's What You'll Get in This Program
| | |
| --- | --- |
| | 6 Info-packed video modules, divided into easy-to-use individual lessons |
| | Audio downloads of the lessons in every module |
| | 6 Live, one-hour teleconference Q&A sessions with Tara Brach |
| | Recordings of every Q&A sessions so you can listen again or at a time that's convenient for you |
| | Membership in the exclusive Mindful Learning community where you can share ideas, give and receive feedback on the message boards |
| | 6 Bonus free reports with leading mindfulness teachers including Elisha Goldstein and Ron Siegel |
| | 2 Bonus audio sessions with the experts |
| | Professional transcripts of each module where you can takes notes & track useful information |
Register here for only three payments of $166
15 CE/CME Credits are available for purchase at checkout.
These 8 bonuses will help you strengthen your mindfulness practice and avoid some of the common pitfalls
Seeing a Person's Goodness Amidst the Daily Grind
Free Report with Tara Brach, PhD
You don't have to hire tech help to succeed in this program, but if you want the help, we'll show you 3 easy ways to find someone. Then let them watch our tutorials so they can set everything up for you.
The Peril of Self-Criticism: Using Mindfulness to Transform Self-Judgment into Compassion
Free Report with Tara Brach, PhD
It can be easy to get stuck in a loop of frequent and liberal self-criticism under the guise of self-improvement. In this report, Tara Brach, PhD, explains how self-judgment works against us, and how we can find true freedom to become our best selves by practicing compassion.
How to Teach Mindfulness Practice
Free Report with Elisha Goldstein, PhD and Ron Siegel, PsyD
It can be difficult to know how to teach mindfulness to someone for the first time. In this report, Ron Siegel, PsyD, and Elisha Goldstein, PhD share their simple strategies for introducing people to mindfulness as well as explaining what practices to avoid when working with highly anxious or traumatized clients.
Mindfulness Techniques for Busy People
Free Report with Ron Siegel, PsyD
When we're extremely busy or stressed, it's challenging to carve out time for mindfulness. Yet it's often at these times when we benefit most from a mindfulness practice. In this report, Ron Siegel, PsyD, reveals how he helps busy clients shift their perspective and make time for mindfulness.
How to Help People Connect to Loving Awareness: Expanding Our Capacity to Give and Receive Unconditional Love
Audio with Ram Dass, PhD
In this stirring audio, Ram Dass, PhD, will get into why it is so difficult to give and receive unconditional love. He'll share how to use mindfulness to dissociate from our "roles" and improve healing. He'll also explain why health problems can sharpen attunement and how to love even the people you dislike.
Mindfulness and Intimacy, For Lovers, Parents, and Therapists
Audio with Ron Siegel, PsyD
Getting along with others, particularly those we love, can be challenging. In this audio, Ron Siegel, PsyD gets into the specifics of how mindfulness practice can help us become more present and connected in some of our most important relationships – both with others, and within ourselves.
How the Development of Trust Leads to Brain Growth
Free Report with Dan Siegel, MD
Just about everything we do, from eating to sleeping and all that's in between, affects our brain . . . for better or worse. In this report, Dan Siegel, MD explains how relationships of trust can prime the brain for positive change. He'll also share five additional practices to supercharge brain growth and health.
Why Being Mindful Can Transform a Negative Perspective
Free Report Sylvia Boorstein, PhD with Sylvia Boorstein, PhD
It's all too easy to let minor slights and old grudges haunt our relationships for years. In this report, Sylvia Boorstein, PhD explains how we can reframe our "stories" about the people in our lives to let go of the negative and have more positive experiences in our present interactions.
Register here for only three payments of $166
15 CE/CME Credits are available for purchase at checkout.
Mindfulness can transform the brain
A few years back, the research was just getting started - evidence was anecdotal, and there was no way of knowing for sure if mindfulness practice was truly making the difference that so many were reporting.
However, we now know that mindfulness practice:
Increases the brain waves associated with neural integration and well-being


Leads to an increased sense of well-being, not to mention greater stress resilience and deeper empathy in both professional and personal relationships.


Improves attention, learning, and memory


Reduces experiences of pain, including chronic pain


Correlates with reduced feelings of burnout and increased stress resilience


Decreases the frequency and severity of stress, and the symptoms that come with it, including IBS, insomnia, and sexual dysfunction


---
---
You Are Protected By
NICABM's Money-Back Guarantee
We invite you to register for this comprehensive training program without any risk. Unless you are completely satisfied, we will refund your money. Just let us know within 30 days from the date of registration. We are that confident that you will find this information to be more than you expected.
All Best,
Ruth Buczynski
You are protected by NICABM's Money-Back Guarantee.